A Certified Nursing Assistant (CNA) degree is a great way to start a nursing career. The program will teach you the fundamental skills needed to provide basic care to patients in various healthcare settings.
While pursuing a CNA degree, you'll learn about vital signs monitoring, personal hygiene assistance, mobility support, and patient communication. These skills are crucial in ensuring the comfort and well-being of patients under your care.
Once you complete your CNA degree program, you'll be eligible to take the certification exam required to become a certified nursing assistant. This certification opens employment opportunities in hospitals, nursing homes, clinics, and other healthcare facilities.
If you're passionate about helping others, enjoy working in a fast-paced environment, and want to make a difference in people's lives, a CNA degree might be the perfect fit.
What Are The Different Types of CNA Degrees?
The variations across CNA degrees are slightly different compared to most degree programs. Here are some of the more popular CNA programs and training options that you can consider:
Traditional CNA Program: This is the most common option for aspiring CNAs. It involves enrolling in a CNA training program offered by vocational schools, community colleges, or healthcare facilities. These programs typically include classroom instruction and hands-on clinical training.

Online CNA Program: Some institutions offer CNA training programs online, allowing you to study and complete coursework remotely. These programs provide flexibility for students with other commitments or who prefer to learn at their own pace. Remember that hands-on clinical training may still be required, which needs to be completed in person.

High School CNA Program: Some schools offer CNA training programs as part of their vocational or healthcare curriculum. These programs allow students to begin their CNA training while still in high school, giving them a head start in their nursing careers.

Red Cross CNA Program: The American Red Cross is a well-known organization that offers CNA training programs across the United States. Their programs are widely recognized and provide comprehensive training to aspiring CNAs.

Nursing Home CNA Training: Nursing homes or long-term care facilities may sometimes offer CNA training programs. These programs are designed to prepare individuals for employment within their facility, and they may have unique requirements or expectations.

Accelerated CNA Program: An accelerated CNA program is designed for individuals who want to complete their training in a shorter period. These programs typically have an intensive curriculum and may require a higher level of commitment. They are ideal for those wanting to enter the workforce quickly or with prior healthcare experience.

CNA Bridge Programs: CNA bridge programs are designed for individuals who have already completed a CNA program but wish to advance their nursing career. These programs allow you to build upon your existing CNA knowledge and skills while transitioning into a higher-level nursing role. Bridge programs can help you become a licensed practical nurse (LPN) or even pursue an associate's degree in nursing (ADN) or a bachelor's degree in nursing (BSN).

How Long Does it Take to Get a CNA Degree?
The duration of CNA programs can vary depending on the specific program and the institution offering it. Generally, CNA programs are relatively short compared to other nursing degrees.
Traditional CNA Program: Most CNA programs can be completed within 4 to 12 weeks. These programs typically include classroom instruction, skills lab practice, and clinical training.

Online CNA Program: The duration of online CNA programs can vary. Some programs offer self-paced learning, allowing you to complete the coursework quickly. Others may have a set schedule or a specific timeframe for completion. It's important to check the program requirements and estimated completion time provided by the institution.

High School CNA Program: CNA programs may be integrated into the regular curriculum and span a semester or an academic year. The exact duration will depend on the school's schedule and the number of hours dedicated to CNA training.

Accelerated CNA Program: Accelerated CNA programs are designed to be completed quickly. These programs can range from 2 to 6 weeks, depending on the intensity and structure of the program.
Career Options with a CNA Degree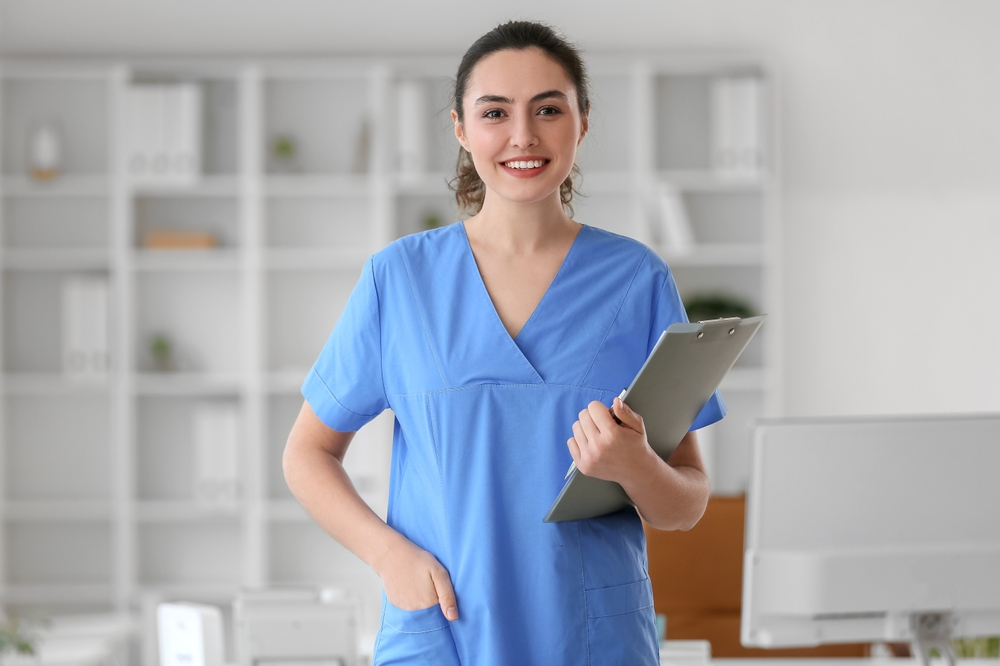 Having a CNA (Certified Nursing Assistant) degree opens up various career opportunities in the healthcare field. Here are eight potential career options for individuals with a CNA degree:
Certified Nursing Assistant (CNA): As a certified nursing assistant, you can work directly with patients in hospitals, nursing homes, assisted living facilities, or home healthcare settings. CNAs provide basic care, assist with daily activities, monitor vital signs, and ensure the comfort and well-being of patients.

Home Health Aide: Home health aides provide care and support to patients who prefer healthcare services in their homes. They assist with personal hygiene, medication reminders, light housekeeping, and other activities of daily living.

Patient Care Technician: Patient care technicians work in hospitals and assist nurses and other healthcare professionals in providing direct patient care. They may perform tasks such as taking vital signs, collecting specimens, assisting with medical procedures, and ensuring patient comfort.

Medical Assistant: With additional training, CNAs can become medical assistants. Medical assistants work in clinics, physician's offices, and other outpatient settings. They perform administrative tasks, assist with patient examinations, take medical histories, and perform basic clinical procedures.

Phlebotomist: Phlebotomists specialize in drawing blood samples from patients for laboratory testing. They work in hospitals, laboratories, clinics, and blood donation centers, ensuring proper collection and handling of blood specimens.

Unit Secretary: Unit secretaries provide administrative support in hospital units. They manage patient records, answer phone calls, schedule appointments, and facilitate communication between healthcare professionals, patients, and their families.

Psychiatric Aide: Psychiatric aides work in mental health facilities, assisting patients with daily activities and providing emotional support. They may also help implement treatment plans under the guidance of mental health professionals.

Rehabilitation Aide: Rehabilitation aides work in rehabilitation centers or physical therapy clinics, assisting patients with therapeutic exercises, providing mobility support, and helping them regain functional abilities after injury or illness.
Highest Paying Jobs with a CNA Degree
While a CNA (Certified Nursing Assistant) degree can lead to a fulfilling career in the healthcare field, it's important to note that the salary range can vary based on location, experience, and additional certifications. Here are a few higher-paying job options that can be pursued with a CNA degree, along with their descriptions and average salary ranges (approximations based on available data as of my knowledge cutoff in September 2021):

Licensed Practical Nurse (LPN) or Licensed Vocational Nurse (LVN):
LPNs/LVNs provide direct patient care, including administering medications, monitoring patients' conditions, and collaborating with registered nurses and doctors.
The median annual wage for licensed practical and licensed vocational nurses was $48,070 in May 2021.

Medical or Surgical Technician:
Medical or surgical technicians work alongside medical professionals in operating rooms, assisting with surgical procedures, preparing equipment, and maintaining a sterile environment.
As of May 2021, the median annual salaries for surgical assistants was $48,320 and $48,530 for surgical technologists.

Phlebotomy supervisors oversee staff, ensure proper blood collection procedures, manage inventory, and coordinate with laboratory staff.
The median annual wage for phlebotomists was $37,380 in May 2021.

Home health nurses provide skilled nursing care to patients in their homes, including wound care, medication management, and monitoring vital signs.
As of May 2021, the median annual wage for home health and personal care aides was $29,430.

Hospice nurses offer compassionate end-of-life care to patients, providing pain management, emotional support, and coordinating services for terminally ill individuals and their families. As of June 2023, the average Staff Nurse – RN – Hospice salary in the US is $82,455.

Correctional Facility Nurse:
Correctional facility nurses work within prisons or jails, providing healthcare services to inmates, managing medication administration, and addressing various medical needs. The average correctional nurse salary in the United States is $62,312 as of June 2023.
Conclusion
Pursuing a CNA (Certified Nursing Assistant) degree is an exciting opportunity to enter healthcare, positively impact patients' lives and open doors to a fulfilling career. With a relatively short training period and various program options, you can quickly gain the essential skills to provide quality care. A CNA degree serves as a solid foundation for further advancement in nursing, whether you choose to become a licensed practical nurse (LPN), a medical assistant, or even pursue higher nursing degrees. The demand for CNAs is high, providing numerous employment opportunities in hospitals, nursing homes, clinics, and home healthcare.
Frequently Asked Questions
Yes, financial aid options such as scholarships, grants, and loans may be available to assist with the costs of CNA programs. It's recommended to inquire with the specific institution offering the program or explore external organizations that provide financial assistance for healthcare education.
A CNA degree can serve as a stepping stone to furthering your nursing career. Many individuals choose to advance their education by pursuing an associate's degree in nursing (ADN), a bachelor's degree in nursing (BSN), or even higher degrees like a master's in nursing (MSN) or a doctorate in nursing practice (DNP) to expand their knowledge and opportunities in the field. Additional education and certifications can enhance career prospects and lead to higher-paying positions in nursing.
While a CNA is an entry-level position, there are opportunities for career advancement. By gaining experience, pursuing additional certifications, or furthering your education, you can explore roles such as unit manager or charge nurse or even transition into specialized areas like geriatric or pediatric care. Advancement may also involve pursuing higher nursing degrees, such as becoming a registered nurse (RN) or advanced practice nurse (APN), which offer broader responsibilities and higher earning potential.