Attending college is one of the most important choices young adults will make. For many, this means leaving home for the first time and embarking on a new adventure.
Like many students seeking higher education, you must be overwhelmed when deciding what academic journey to pursue. But fear not! In this guide, "Prepare for College," we provide valuable insights and step-by-step advice to help you make informed choices.
From selecting the right college and deciding on majors to navigating financial aid and developing essential skills, this comprehensive resource will empower you for a successful transition into the world of higher education.
13 Strategies to Prepare for College at the Right Time
1. Prepare Your Mind to Be More Practical
This is your first time making such a life-altering decision, and it can feel overwhelming and frightening. But the truth is that you and everyone your age will have to make this decision. Avoiding thinking and preparing for it is not going to help anyone. Instead, it will multiply the magnitude of the problem as time passes, and you get time constraints.
So, take the first step, which is to think through the future. Talk to yourself. Who do you aspire to become? What are your interests? Things I am good at? There will be something, even if that mildly interests you.
After you know the degree or significance you want to pursue, consider which college you want to attend. Make three lists. On the first list, write down your dream schools. This list will consist of your reach colleges.
Next, write down colleges that have good ratings and are practically feasible. These will be the colleges that come in your budget, are in your state, offer the programs you like, etc. This list will be called your list of target colleges. List three will be called your safety colleges. This list will have colleges with a reasonable acceptance rate and will be your fallback colleges.
Make these three lists and come up with a few names, preferably under ten. Coming up with the names of colleges you want to apply to is the first tangible step in preparing for college.
2. Know Your Inner-Self to Get an Idea of the Type of College You Want to Attend
The peer pressure at this point is understandably high. But don't let it cloud your judgment. You can't decide on your college and major based on where your friends are going. It has to be your own decision solely.
If you're confused about your "true calling, " you should ask your peers, parents, and teachers about what they think you shine in and where your potential lies. However, you know yourself best. It will help if you decide based on your clue and gut feeling.
3. Get in Touch With Your High School Guidance Counselor to Prep for College Research
Deciding on a significant degree and college and then applying to and preparing for college is also quite nerve-wracking. So, it always helps to seek guidance from a professional.
Most schools have hired career counselors to help you prepare for college and answer your queries that your family and friends could not.
4. Understand What Goes Into College Admission Requirements
Because you have never decided on a college, you must also be unaware of the college admissions process. If you need more support, gather all the information on college admissions.
Consult the list of requirements of the university program you wish to enter and check if you have or are working towards all the needs. Many students fail to check the list and are disappointed at the last minute because they can't get into their desired college.
So check if your desired university requires SAT or ACT and take the required exams. Check the minimum score and GPA requirements to make sure you're eligible.
5. Prepare Early for College by Participating in Extra-Curricular Activities
Getting good grades is essential to get into your desired college. However, being into extracurricular activities sets you apart from the rest of the applicants.
It would be best if you got going on this as soon as possible. Discover your strengths.
Are you good at playing the piano or any other musical instrument?
Are you into debating?
Or sports?
Even if you're scared that you might not excel, you must participate in whatever extracurricular activities you can. That doesn't only give you an irreplaceable experience but also gives you something you can put on your resume and talk about during interviews.
6. Getting Involved in Internship Programs to Prepare for College
Internships are another thing that helps you gather experience. If you get an opportunity to work for something related to your area of interest, that's ideal. But there is nothing to worry about even if you don't.
Anything you can get and can give you any skill is good. You will have more experience and exciting insights to discuss in your cover letters and interviews.
7. Be in the Habit of Reading to Help You Prepare for College
If you're like most high school students, you're probably not reading very much for fun. But did you know that reading can help you prepare for college?
Reading textbooks and other assigned materials is essential for doing well in school. But reading for pleasure can also improve your reading comprehension and vocabulary, which will be helpful when taking college-level classes.
Moreover, reading can help you learn about different cultures and experiences, which will be valuable in a diverse college setting. So even if you're not big on reading now, it's worth developing the habit. It just might help you succeed in college and beyond.
8. Prepare Yourself for Taking Notes
Keep a notebook on you at all times. Or make a memo on your phone. Taking good notes is an important skill to have. Here are a few tips to help you get the most out of your messages:
Write down everything that is said in class.
Take note of any critical points made on the board or in handouts.
Organize your notes after each class.
Review your notes regularly.
Don't hesitate to ask for help if you have trouble understanding something.
9. Work on Your Communication Skills to Get Ready for College
Speak to those preparing for college admissions and approach teachers, counselors, and seniors. Your transition into the real world begins in college. Even if you're generally introverted or shy, you can't let your inhibitions hinder your opportunities.
Similarly, diversify your experiences by participating in debate competitions, theatrical performances, or joining other communities and societies. It will help you overcome your fears and increase your knowledge.
Polish Your People and Soft Skills to Prepare for College Life
Grades and extracurricular activities are essential, but so are soft skills. Just like every other skill, soft skills get better with time.
You can be mindful about getting better at these soft skills as they will be helpful in your college and professional life.
Time management
Networking
Teamwork
Creative thinking
Conflict resolution
10. Research the Different Types of Colleges to Prepare Early for Your College Admission
One of the common mistakes that students make is that they don't research the different types of colleges enough.
There are private and public colleges that everyone knows about. But there are so many more. There are community colleges, 4 and 2-year colleges, liberal arts colleges, colleges with a special focus, women's colleges, and so on!
Do you get the point? There is something for everyone; you will only know this when you start researching.
11. Financially Prepare Yourself for College
Colleges can be expensive. The average cost of attendance for a student living on campus at a public 4-year in-state institution is $25,707 per year or $102,828 over 4 years, whereas private, nonprofit university students pay $54,501 per year or $218,004 over 4 years.
So, even if you want to attend an in-state public school, it can dent your pocket. It would help if you started thinking about finances at an early stage. Can you afford your 4-year degree? Can your parents support your education? Do you need a part-time job to save up for college? What else can you do to finance your college?
These are difficult questions, but you must clear them before entering college. It would be best if you also did well in studies and extracurricular to get a merit scholarship.
12. Make a Plan for the College Entrance Exams
Don't leave the preparation for college entrance exams at the last minute. Many other things will need your attention simultaneously in your sophomore year.
You do not want to be burdened by the books at this time. You can do well in your statements when you're not overwhelmed with studies.
13. Make the Most Out of Your Freshman Year to Prepare for College
Start slow and steady in your freshman year, so you're already ahead of others in your sophomore year. Analyze what books you need to prepare for the entrance exam. See what exams your desired universities require.
See if you can score an internship that will help you later. Is there someone who has recently gotten into university and can help you with your applications and personal statements?
As you enter your sophomore year, things start to get serious. There are too many academic responsibilities, and you will regret not using your time effectively by the time you start your senior year.
So, use your time in the first year wisely so you have the time and energy to do other essential things in your sophomore, junior, and senior years.
What Is a Freshman Year?
A freshman year is the first year at an educational institute. You will be a freshman if you're a first-year student in high school, college, or university or even during your post-graduate studies.
First-year students have their challenges. They need to settle in, accept, and get used to the changes in their lives. But it is also the most accessible year of university as the burden of academic responsibilities is the least.
Students should make use of their first year as much as possible.. Here's what they can do:
Seek internship opportunities
Connect with professors and see if they need any help with research work
Talk to seniors about colleges, majors, job prospects, and related advice
At the same time, have fun. Make friends and make memories. It will only get serious from here, and you will wonder where all the time flew away.
Important Steps After the Preparation for College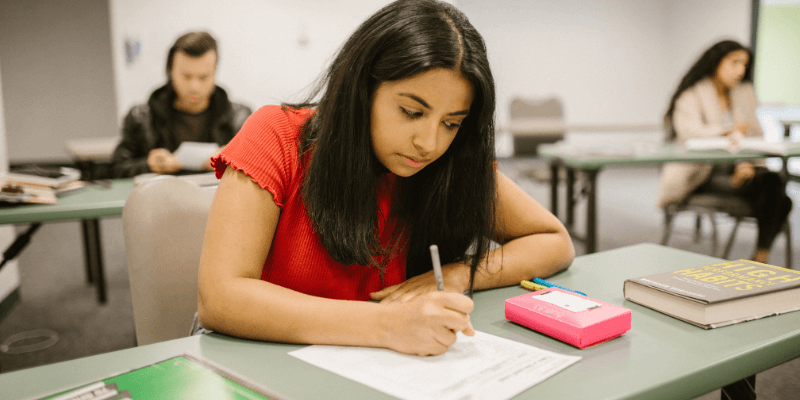 Thinking about going to college is one thing, and actively preparing for it is another.
Here is a list of things that you should do to prepare for college:
1. Research the different types of colleges
See what suits your requirements. You can't just decide to attend college. Your friends will be listening. Look up the public and private colleges in your state, the community colleges, and the 2 and 4-year degree colleges. See what their requirements are and what kinds of scholarships they offer.
2. Prepare for the right type of tests such as SAT and ACT
Shortlist colleges you want to apply to. Then see what tests they require. Register yourself for the SAT and ACT and start preparing. The sooner you give these exams, the better, as you will have applications, statements, and academic responsibilities piled up in later years.
3. Think through the logistical issues
Make sure you have accommodation arranged if the college you intend to attend is out of state. If you want to stay at the hostel, ensure you have applied for it. See if that is sorted out if you visit a friend or relative.
Similarly, talk to seniors and friends and find out what kind of job opportunities the university provides students. Is there a professor you would want to assist? Are there other jobs that you could manage with your college?
You won't know for sure until you go there and try, but it's wise to think about these possibilities beforehand.
Conclusion
Choosing the right college and preparing for it is one of the most challenging things that individuals entering adulthood do.
You must leave conducting research, filling out applications, writing personal statements, getting internship experience, and preparing for college entrance exams at the last moment. You will already be stressed about your grades and academic performance then, so it is best to start at the earliest.
In this blog, we shared 13 strategies to prepare for college that will help you prepare for college in due time.
To recap:
Firstly, try to maintain good grades and get involved in extracurricular activities.
Secondly, prepare for your college entrance exams in your freshman year and take them before your sophomore year ends.
Lastly, start researching the colleges you wish to go to. You don't want to see their requirements at the last minute or miss deadlines.
We hope this blog helped you find the answers you were looking for. Feel free to browse through our site for any information about any college-related topic.