Key Takeaways:
If you're thinking about online business school, you may also want to work remotely once you get your degree. You could consider an online business degree based on your current level of education.
As you consider what business degree to get, consider which jobs have the best chance of offering remote working conditions. Potential employers are looking for certain skills that can help you scale your career in the field of business.
There are a number of business jobs that have now gone remote and offer a lucrative pay package to look for business graduates. Try to align your interests and skills with jobs that may allow you to be a hybrid or fully remote worker.
Many industries now have remote working options for those who want flexibility of remote work without feeling overwhelmed by personal and professional commitments. Explore job options in industries that align with your interests and a degree program that prepares you for remote roles in business.
While the world is still experiencing the ripple effects of 2019's pandemic, it's safe to say that most of us have accepted and settled in the 'new normal'. From giving our health the attention it deserves, to leveraging technology and online resources to study, work, and connect with people, the world has come a long way.
When it comes to flexible working styles, interesting facts have come to light. According to a survey conducted by McKinsey in 2022, when people have the chance to work flexibly, 87% of them take it. Another striking figure from the same survey suggests that 58% have reported having the opportunity to work from home at least 1 day a week, and 35% say that they have the option to work from home all 5 days a week. These numbers only go to prove that remote working and a hybrid work culture is here to stay.
In this article, we will focus on the relevance of remote jobs for graduates, especially if they have an online business degree. We'll also detail the kind of jobs you can land in business as a fresh graduate and how you can grow in the field to climb the corporate ladder.
How to Get an Online Business Degree
With students preferring to study online, thanks to the ease and flexibility it offers, getting an online business degree is not as difficult as it was in the past. Let's take a quick look at the steps involved in applying for and earning this degree:
Step 1 – Decide the level of education you wish to pursue. For instance, if you're just out of high school and are interested in the field of business, you could consider an online associate degree in business. However, if you want in-depth knowledge of business and are sure that you wish to start your career in business, you could consider an online bachelor's program in this field of study,

Step 2 – Look for accredited institutions that offer online programs in business and check which degree programs meet your educational needs. If you've already earned an undergraduate degree in business, you should consider looking at accredited colleges that offer in-depth knowledge of business with an online master's degree program in business.

Step 3 – Next, check the admission requirements of the selected college. Typically, this includes a high school diploma or equivalent, sometimes along with standardized test scores.

Step 4 – Make sure you complete the application process, which may require transcripts, test scores, and sometimes, letters of recommendation.

Step 5 – Explore financial aid options like grants and scholarships to ease tuition costs. Remember to fill out the Free Application for Federal Student Aid (FAFSA) to apply for financial aid.

Step 6 – Finally, once you're enrolled in an online business program, establish a conducive learning environment for yourself with a reliable computer and internet connection. Plan to actively engage in coursework, and participate in virtual discussions while attending online classes.
Related: Synchronous vs Asynchronous Classes: Choosing an Online College Program
Upon completing all degree requirements, you'll gain the right set of skills and knowledge to graduate with a valuable online business degree. If you're looking for degree programs that match your educational goals, you could give college match tools like CollegEnroll a shot. You might just find what you're looking for.
Online Associate Degree in Business
A two-year undergraduate program, an online associate degree in business provides fundamental knowledge and skills in various aspects of the business world, all accessible through internet-based courses. The program offers coursework in areas like accounting, marketing, management, economics, and business ethics.
This degree prepares you for entry-level positions in the business field or to continue your education with a bachelor's degree, as it covers essential business concepts, such as financial management, marketing strategies, and organizational leadership. By studying online, you have the flexibility to balance your education with other commitments.
Upon completion, you can pursue careers in various business sectors or transfer credits to a four-year institution for further education. An online associate degree in business offers a convenient and cost-effective way to start a career in the dynamic world of business.
Online Bachelor's Degree in Business
An online bachelor's degree in business is a four-year undergraduate program that provides holistic education in the principles and practices of the business world. This program offers in-depth knowledge in various business disciplines, including finance, marketing, management, accounting, economics, and more.
With the flexibility to study from the comfort of your location, an online bachelor's in business covers advanced business concepts like strategic planning, problem-solving and entrepreneurial skills, all through internet-based courses and classes.
Upon completion, you are set to establish a career in fields like finance, marketing, human resources, and management. An online bachelor's degree in business opens a number of opportunities in the business world and provides a solid foundation for further education or professional advancement.
Online Master's Degree in Business
An online master's degree in business is an advanced, graduate-level program designed to provide in-depth expertise in business management and administration, all offered through internet-based courses. This is often pursued by working professionals looking to deepen their understanding of business, resulting in enhanced career prospects.
These programs offer various specializations, including MBA (Master of Business Administration), Master's in Management, or other specialized master's degrees in areas like finance, marketing, or entrepreneurship. The coursework covers advanced topics such as strategic planning, leadership, decision-making, and often includes case studies and real-world projects.
The biggest benefit of online delivery is that it allows you to balance your studies with your professional commitments and offers interactive and engaging learning experiences. Upon graduating, you become well-equipped for high-level management roles, entrepreneurship, or to lead in specific business sectors. It is a convenient and valuable option for advancing one's business career while maintaining flexibility.
Skills Employers Look for in Remote Business Workers
Employers of remote workers look for a certain set of skills that can set these individuals up for success while also contributing to their organization's growth. Let's look at some of these skills:
Self-Discipline: Remote work often lacks direct supervision. Self-discipline to create and stick to a schedule, meet deadlines, and avoid distractions can help people who work remotely. This skill ensures they remain productive and accountable for the tasks they're assigned.
Communication: Effective communication in remote settings is critical to ensure the success of any project. This involves clear and concise written communication via emails, instant messaging, or project management tools. With the advancement of technology in the past couple of years, companies also encourage employees working from remote locations to engage in productive video calls and discussions, and actively listen to their teammates' perspectives. Strong communication skills are vital for preventing misunderstandings and fostering collaboration.
Tech-Savvy: Remote workers need to be comfortable with various digital tools, software, and platforms used for communication. This also extends to using project management and collaboration tools. Additionally, if you equip yourself with the ability to troubleshoot common technical issues that help reduce downtime, you may be considered an invaluable resource for the company.
Time Management: This is an important life skill that comes in extremely handy when working remotely. Working from a location which is not your office may require you to juggle multiple tasks and responsibilities, both personally and professionally. Good time management involves setting priorities, establishing goals, and allocating time effectively. This skill can help you stay organized and effectively meet project deadlines.
Adaptability: Remote work environments can change rapidly, especially in response to global events or evolving technologies. As an adaptable employee, you can quickly adjust to new tools, platforms, or work processes, and remain productive despite changing circumstances.
Problem Solving: Sometimes, remote workers encounter technical issues or obstacles while working independently. In such cases, strong problem-solving skills can enable them to troubleshoot and resolve issues without constant support, minimizing disruptions to their work.
Organization: As a remote worker, it's good to maintain a high level of organization in managing digital files, project data, and communications. Effective organization will make it easier for you to locate information, track progress, and ensure a structured workflow. All of this is vital for you to remain efficient and effective when working remotely.
These skills collectively contribute to a successful remote work experience, ensuring communication remains clear and tasks are completed efficiently and effectively.
Now that you have a fair idea of the skills you need to excel as a remote worker, let's take a look at the industries where you can find suitable remote jobs as a recent business graduate.
Online Jobs for Business Management Degree Holders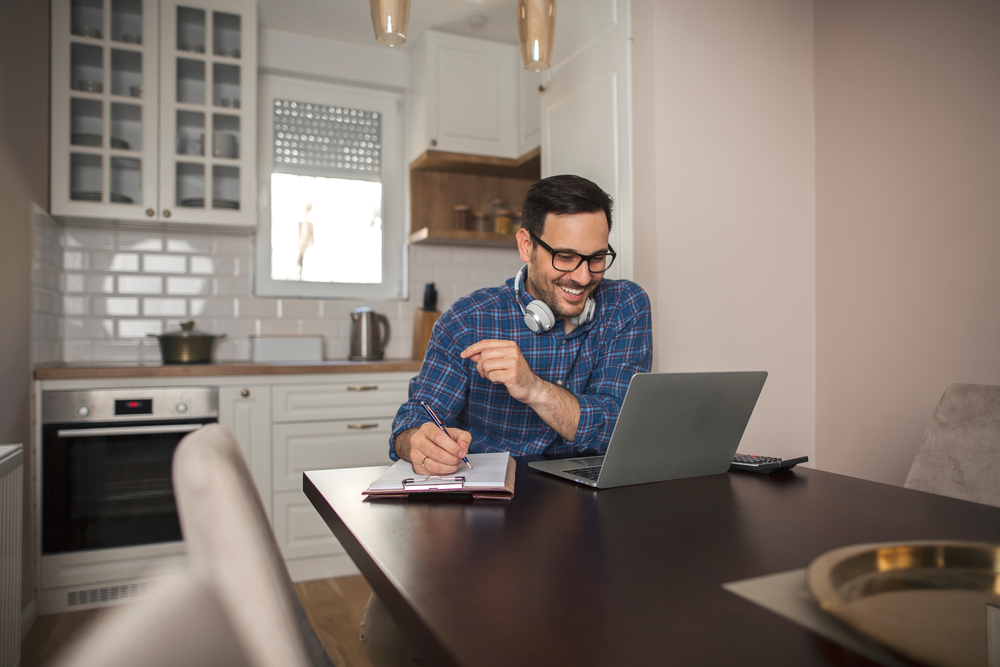 As business management graduates, we've seen you get the opportunity to work in a range of industries. Now, let's look at some popular online jobs for business management degree holders that can help you excel in the field of business:
Business Consultant:
Business consultants provide expert advice to organizations on various aspects, such as strategy, operations, finance, and management. They analyze issues, develop solutions, and help implement changes to improve efficiency and profitability. The average salary of an IT Business Consultant is $96,071, but the salary range typically falls between $88,874 and $104,589.
Project Manager:
Project managers oversee the planning, execution, and successful completion of projects. They ensure that projects meet their objectives, stay on schedule, and are within budget. This role requires strong organizational and leadership skills. On average, a project manager earns about $87,633 on a yearly basis.
Financial Analyst:
Financial analysts assess financial data, market trends, and investments to provide recommendations for businesses. They help with financial planning, budgeting, and investment decision-making. The average financial analyst salary is $65,459. However, the salary range typically falls between $59,675 and $72,442.
Human Resources Manager:
HR managers oversee an organization's human resources department. They handle recruitment, employee relations, performance management, and workforce planning. Their role is crucial in creating a positive workplace culture. As of May 2022, the median annual wage for human resources managers was $130,000.
Management Analyst:
Management analysts, often known as business analysts, study and analyze an organization's processes, identify areas for improvement, and recommend changes. They help businesses operate more efficiently and effectively. The median annual wage for management analysts was $95,290 in May 2022.
Marketing Manager:
Marketing managers develop and execute marketing strategies to promote products or services. They analyze market trends, customer behavior, and competition to create successful marketing campaigns. As of September 2023, the average salary of a marketing manager salary is $116,933. However, the range typically falls between $102,450 and $134,033.
Supply Chain Manager:
Supply chain managers oversee the production, distribution, and logistics of products. They ensure that supply chains are efficient, cost-effective, and meet customer demands. On average, as of September 2023, a supply chain manager earns about $122,997, but the range typically falls between $108,718 and $139,324.
Operations Manager:
Operations managers are responsible for the day-to-day operations of a business. They ensure processes run smoothly, manage staff, and maintain quality control. While this may not be a completely remote business, considering managing daily operations of a business requires some facetime with on-ground employees, a hybrid set up, especially in tech companies is possible. Annually, the average salary of an operations manager is $114,354. The typical range, however, falls between $98,206 and $127,203.
Sales Manager:
Sales managers lead and oversee sales teams. They set sales goals, develop strategies to meet targets, and monitor performance. Their aim is to increase revenue and market share. The median annual wage for sales managers, as of May 2022, was $130,600.
E-commerce Manager:
E-commerce managers handle online sales and operations. They oversee online stores, monitor website performance, and implement strategies to drive online sales growth. This role is essential in today's digital commerce landscape. The average base salary of an E-Commerce manager is $71,783 annually.
These roles are not only well-paying but also offer substantial opportunities for career growth and advancement. Business management degree holders possess the knowledge and skills necessary to excel in these positions, whether they work in traditional office settings or remotely.
Industries That Have Business jobs for Recent Graduates
Getting a job opportunity in the field of business as a recent graduate can help you set a solid foundation to a successful career. While some of these jobs may have the option of being completely remote, some of them may require a hybrid setup. This is because a few job roles require face time with company employees, for periodic or weekly check-ins.
Here are some popular industries that offer jobs opportunities to recent business graduates:
Finance and Banking Industry
The Finance and Banking industry includes financial institutions and services like banks, investment firms, and insurance companies. These institutes help individuals manage money, investments, and assets to facilitate economic growth and individual financial security. Some common business jobs for recent graduates offered by this industry include:
Financial Analyst: These professionals evaluate financial data, trends, and investment opportunities.
Investment Banking Analyst: As an investment banker, you'll get to work with mergers, acquisitions, and capital raising for companies.

Credit Analyst: Credit analysts have the prime responsibility of assessing the creditworthiness of individuals and businesses.

Financial Advisor: As a financial advisor, you'll get the opportunity to offer financial planning and investment advice to your clients. Based on this advice, individuals can plan their investments wisely.
Tech Industry
An ever-evolving industry, the tech space is a dynamic sector that focuses on developing and advancing digital innovations, including software, hardware, and digital services. Companies in this sector do so to drive societal, business, and technological progress. This industry is characterized by rapid advancements, innovation, and the integration of technology into various aspects of our daily lives. Some popular business jobs for recent graduates in this sector are:
Business Analyst: Business analysts help bridge the gap between business needs and technology solutions by suggesting effective solutions to the company.

Product Manager: As a product manager of a tech company, you'll get to oversee the development and launch of software or hardware products.
Sales Development Representative: If you're a sales development representative in the tech space, you'll get to identify, qualify and sometimes, connect with potential customers for the sales team.

Project Coordinator: Project coordinators usually assist in project planning, execution, and monitoring of projects that have a direct impact on the success of the business.
Healthcare Industry
The healthcare space includes a wide range of services, including hospitals, clinics, pharmaceuticals, and medical research. All of these services are dedicated to providing medical care, advancing medical science, and improving the overall health and well-being of individuals and communities. This industry plays a crucial role in safeguarding public health and well-being and offers a number of job opportunities to recent business graduates. A few popular ones include:
Healthcare Records Administrator: As a healthcare administrator, your core responsibilities may include organizing patient records, test results, medical histories and treatments. Remotely, you might also need to maintain records and communicate relevant information to healthcare professionals, patients and insurance companies.

Healthcare Analyst: As a recent business graduate, you could become a healthcare analyst and help hospitals and other healthcare setups analyze data to improve operations and patient care.

Medical Practice Manager: Medical practice managers have the prime responsibility of overseeing the administrative aspects of medical practices. While this job might not be completely remote, a hybrid work setup is surely a possibility.

Pharmaceutical Product Managers: As a pharmaceutical product manager, you would be responsible for conducting market research to identify customer needs and trends. Once done, you could also be required to develop marketing strategies and tactics to promote pharmaceutical products.
Retail Industry
The retail industry involves the sale of consumer goods and services directly to individuals, either in physical stores, online, or through various distribution channels. This dynamic sector is shaped by consumer trends, marketing strategies, and supply chain management. As a highly competitive industry where businesses strive to create appealing shopping experiences, there are a number of job options that you could explore as a recent business graduate:
Merchandiser: As a merchandiser, you'll get to plan and coordinate product displays and inventory of a store. While a brick and mortar store would require your physical presence, a merchandiser of an online store could possibly work remotely.

E-commerce Specialist: A new and upcoming field, e-commerce specialists excel at managing online sales and marketing strategies.

Digital Inventory Manager: If you're an inventory manager of a digital store, you would be required to keep records of digital inventory, ensure there's no shortage of any product and may also be required to communicate with suppliers and wholesalers on a regular basis. Additional responsibilities may include budgeting, sales and display.

Customer Service Representative: Most stores require a customer service team that can address queries related to delivery, delays and payments. As a customer service representative, you could easily work from a remote location and answer customer queries by phone or through chat boxes.
Marketing and Advertising Industry
The Marketing and Advertising industry is all about promoting products, services, and brands to target audiences through creative and strategic campaigns. As a professional in this field, you would get to develop and execute various marketing strategies, from traditional advertising to digital and social media campaigns – all with the ultimate goal of reaching and engaging consumers effectively. Another dynamic industry of the current times, this space leverages consumer insights, creativity, and data-driven approaches to drive brand visibility and customer engagement. The common job options offered to recent graduates of business in this industry are:
Marketing Coordinator: If you are employed as a marketing coordinator, you would get to assist in marketing campaigns, events, and promotions to ensure more brand visibility.

Advertising Account Executive: Account executives in advertising manage client relationships and ad campaigns to ensure they meet client expectations.

Digital Marketing Specialist: As a digital marketing specialist, your prime focus would be effectively using online marketing channels to promote the product or services of a business.

Market Research Analyst: If you have an analytical bent of mind, you could consider becoming a market research analyst. In this profession, you would collect and analyze data to understand market trends and find solutions that can effectively place your company's products or services in the market.
Manufacturing Industry
The Manufacturing industry is the backbone of production, which includes the creation of goods from raw materials or components. This involves a variety of processes, from product design and engineering to assembly and quality control. Manufacturing plays a pivotal role in the global economy, producing a vast array of products, from consumer goods to industrial machinery. Popular job roles for business graduates in the manufacturing industry, include:
Supply Chain Analyst: As a supply chain analyst, you would be responsible for optimizing the supply chain and logistics of the product from one portion of the manufacturing stage to the next.

Operations Coordinator: Operations coordinators main role is to coordinate and improve day-to-day operations of a manufacturing unit.

Procurement Specialist: If you're given the job of a procurement specialist, you would get to manage the purchase of goods and services needed to complete the production of the final product.

Data Entry Specialist: As a data entry specialist, you would be required to maintain records on MIS (Management Information System) tools that the company uses. This data or records may include incoming raw materials, storage and warehousing details, production unit information and transportation information.
These industries offer diverse career opportunities for recent graduates to apply their business knowledge, develop practical skills, and advance their careers in a field of their choice.
The Bottomline
In today's dynamic and interconnected world, online business degree holders have a plethora of opportunities across various industries. From consulting and project management to finance and marketing, business graduates can embark on diverse career paths. These roles not only offer the potential for substantial income, but also give you the chance to make a meaningful impact within organizations.
Whether you decide to work on-site or in remote positions, certain key skills developed through your online education are highly sought after and can offer an edge over your competition. We've seen that there are several online jobs for business management degree holders where you can excel and contribute to the growth and success of the companies they serve. And with the flexibility of remote working, you can pursue these career opportunities at your convenience, without feeling overwhelmed by personal and professional commitments.
Frequently Asked Questions
A business administration degree opens doors to a broad spectrum of career options.
– Business managers oversee daily operations and set long-term goals for the organization.
– Financial Analysts analyze financial data and offer investment recommendations, while Marketing Managers develop and execute strategies to promote products and services.
– Human Resources Managers manage employee relations and HR policies, and Management Analysts identify areas for operational improvement.
– Project Managers oversee project planning and execution, while Sales Managers lead sales teams and set sales targets.
– Supply Chain Managers manage production, distribution, and logistics.
Some graduates opt to become entrepreneurs, while others work as E-commerce Managers, overseeing online sales and operations.
Remote jobs can be quite lucrative, with many opportunities in business areas like marketing, consulting, project management, and more. They offer flexibility and the potential to tap into a global job market, allowing professionals to find higher-paying positions or freelance opportunities. However, this can vary based on individual skills, experience, and the specific business sector. Additionally, the demand for remote work has increased, making competition fiercer, but for those who excel, remote business roles can provide a rewarding income and work-life balance.