The big data market is expanding at an exponential rate, as is the demand for data scientists. If you want to work in this fascinating field, a solid data science bootcamp can help you learn the skills you need and obtain hands-on experience.
A data science education can help you find work as a data analyst, data engineer, data architect, or data scientist. The data science route you eventually select will be determined by your talents and interests, but each job option will need some degree of programming, data visualization, statistics, and machine learning knowledge and skills.
Data analysts and data scientists analyze, gather, and interpret huge datasets to aid in business decisions. It's a rapidly expanding and profitable professional path, with data scientists earning an average annual income of $122,550, according to Glassdoor.
But what exactly qualifies as an "excellent" data science bootcamp? Can a bootcamp truly prepare you for such a sophisticated field?
In this blog post, we'll look at what data science bootcamps are and tell you exactly if they're worth considering over a college degree. Finally, we'll examine 13 of the best data science bootcamps available right now.
Let's get started.
What Is a Data Science Bootcamp?
A data science bootcamp is a rigorous and immersive program designed to prepare you for a career in data science. While programs can be completed in a matter of months, they will prepare you for some of the most in-demand jobs.
Data science bootcamps provide fundamental skills and experience in data manipulation, statistical inference, machine learning, Python programming, and other areas. Data science bootcamps can provide students with a thorough understanding of both fundamental concepts and advanced techniques.
Many people who enroll in a bootcamp have an undergraduate degree in a field unrelated to data science and want to become formally certified in the field so that they can pursue a career in it.
What Are the Criteria for Top Data Science Bootcamps?
As the unprecedented shift toward online learning continues, more students are looking for the combination of skill development and flexibility that an online boot camp education provides. With the assistance of an online boot camp, it is now easier than ever to break into fields such as web development, data science, financial technology, cybersecurity, and digital marketing.
The questions below can help you select an online bootcamp that meets both your educational and career objectives.
Will I Be Able to Interact in Real Time?
Will I Be Able to Learn on My Own Time?
Will I Be Taught the Most Recent Technologies and Frameworks?
Will I Have the Opportunity to Gain Real-World Experience and Build a Portfolio?
Will I Be Assist with My Career Planning?
Will I Benefit From Financial Assistance?
Will I Receive Assistance Throughout My Journey?
13 Best Data Science Bootcamps
When identifying the best data science bootcamps, we look for a stringent admission process, respected instructors and mentors, a commitment to diversity, transparent student results, and scholarships or inventive payment solutions.
Here are the top 13 data science boot camps to help you get started in the field.
1. Data Science Bootcamp by Byte Academy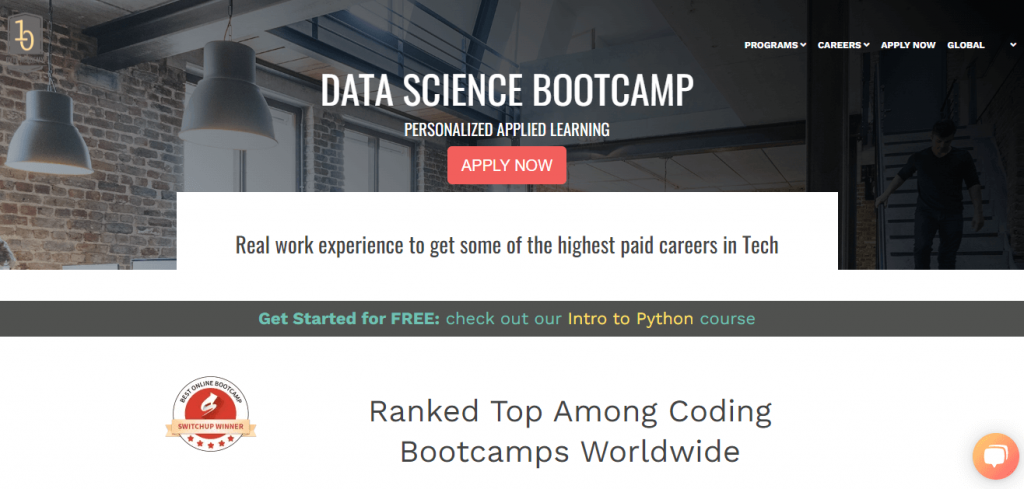 Byte Academy Data Science Bootcamp provides an applied curriculum for intermediate to advanced-level learners. It combines practical learning and live instruction to compete with the ever-changing IT landscape.
Students move through the program in cohorts, either full-time or part-time. The bootcamp consists of pre-recorded classes, live sessions that must be attended, exercises, and optional office hours.
Each applicant must complete or pass a free introduction to Python course and an interview. The career services team at Byte Academy maintains ties with prominent firms. Graduates may also opt to obtain experience by applying to a SpryteLabs internship program.
The cost of the bootcamp is $14,950 which is pretty average for bootcamp but the option of financing or scholarship is not mentioned on the website. After registering for this bootcamp, you will be ready to start an entry-level position after 24 weeks.
2. Data Science Bootcamp by Flatiron School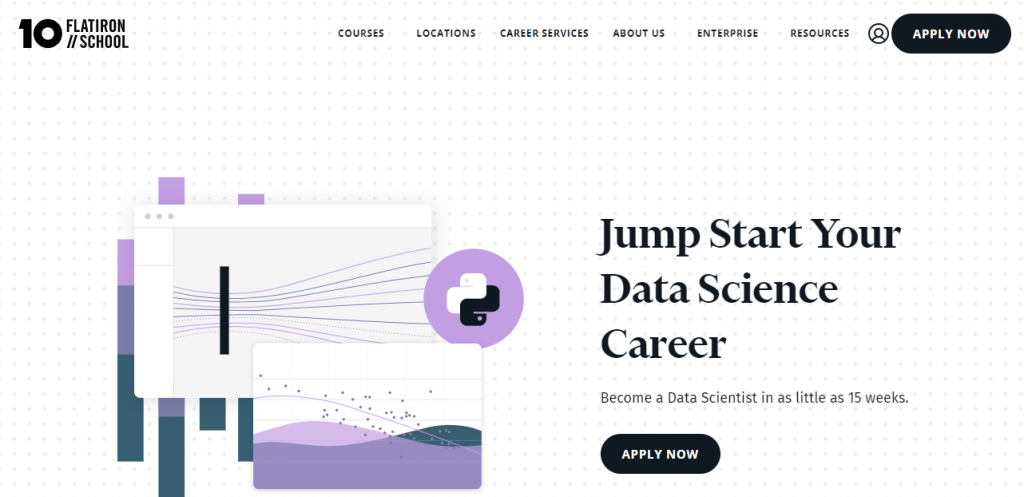 One of the most adaptable bootcamps available for beginner-level students is Flatiron's Data Science Bootcamp. The curriculum can be completed on-campus or online, albeit owing to pandemic limitations, all courses are only available online.
You may enroll in the full-time program, attend live lectures, adhere to a regular timetable, and study with other students in the community. This would take 15 weeks to finish. You may also take the same course in a flexible style, studying on your own time. Students typically take between 20 and 60 weeks to finish the curriculum.
Flatiron School matches each graduate with an expert career coach to help them achieve their full potential. Graduates of data science bootcamps will have a 94% employment rate in 2020.
The bootcamp costs $9,600-$16,900, which appears to be on the higher end but can be paid upfront, in installments, or via personal loans. The pricing is reasonable given the topic's depth and hands-on teaching via model projects.
3. Data Science Bootcamp by General Assembly

General Assembly's Data Science is one of the best bootcamp if you want to step into the challenging industry of data sciences. This intermediate-level curriculum requires applicants to have solid mathematical foundations and a working knowledge of programming concepts.
GA's full-time and part-time data science bootcamps last between 12 and 24 weeks. Part-time classes are held in the evenings and on Saturdays to accommodate working professionals.
Students finish multiple courses that address principles of data science, data analysis, statistical modeling, machine learning, and advanced subjects.
GA's full-time team of career coaches provides job search support to every graduate. You can attend this bootcamp for $15,950 which is average for a Data Science bootcamp. You can pay upfront, apply for scholarships, Progressive Income Share Agreement (pay when you start earning), employer-sponsored payment, personal loan, or Workforce Ready Grant (WRG).
GA's Data Science Bootcamp alum are working in major companies including Chase, Paddle, Slack, PepsiCo, Nickelodeon, The Washington Post, and Adobe.
4. Online Data Science Bootcamp by Thinkful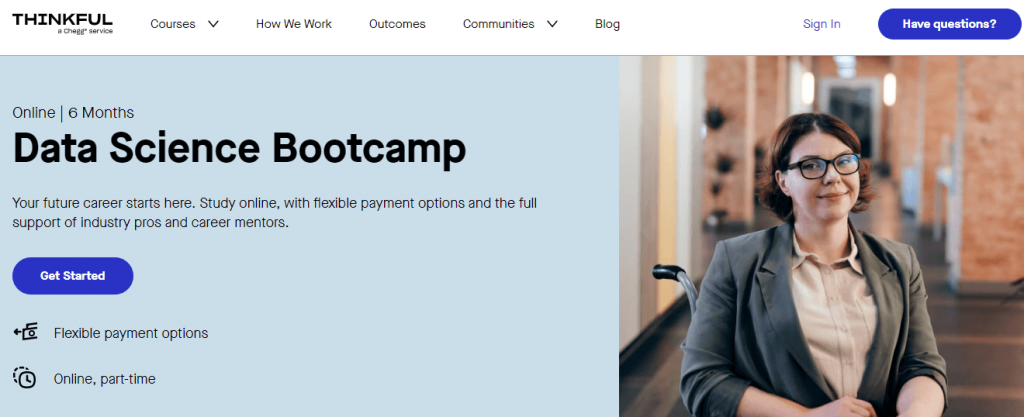 The online Thinkful Data Science Bootcamp is a six-month curriculum with self-paced classes that requires an expenditure of 15-20 hours each week. Live video mentor sessions, tailored career advice, 1:1 mentorships, optional office hours, and a tuition return guarantee are all part of the bootcamp.
This program has no requirements, and it is open to both beginner-level learners and seasoned professionals. It is ideal for people who want to lay the groundwork for a career in data science.
Thinkful offers career assistance both during and after the bootcamp. Individual and group career counseling sessions are available to students and graduates, as well as curated workshops, mock interviews, and individual and group career coaching sessions.
The bootcamp costs $9,500, which is quite low when compared to the typical cost of data science bootcamps. The financing options are available in the form of upfront payment, deferred payment (when you start earning $40,000), and monthly installments.
5. Online Data Science Bootcamp by BrainStation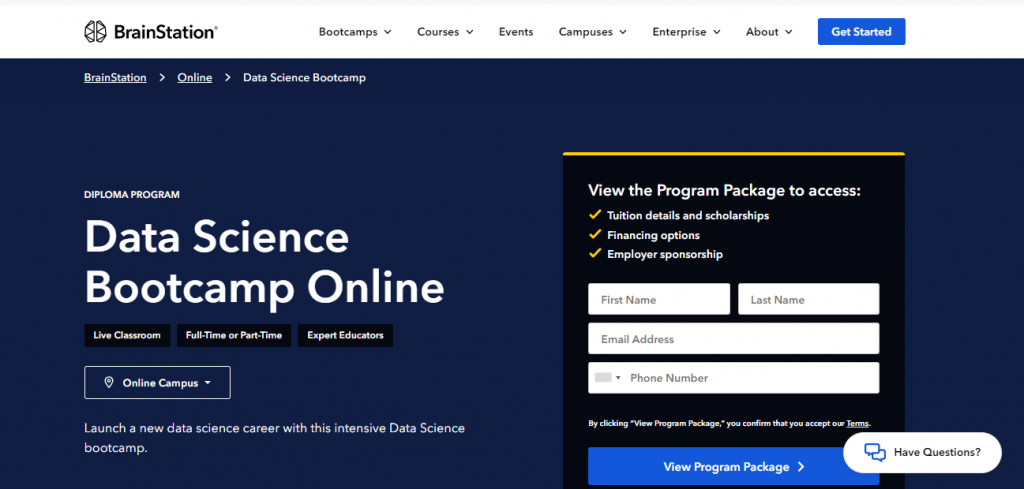 BrainStation's data science bootcamp usually lasts 10 weeks. It is great for beginner-level students since they may gain a complete understanding of the concepts of Data analysis, SQL, Notebook, Python, and Seaborn, as well as learn how to use these new skills and information.
The data science bootcamps offered by BrainStation are immersive and project-based, allowing students to finish with a portfolio of completed projects. You can choose to work remotely or attend bootcamps in Miami, New York, Toronto, London, and Vancouver.
The cost of the bootcamp is $15,000, which is reasonable given the breadth of the topics covered. Students can, however, apply for scholarships designated for minorities, women, and veterans, reducing the whole package somewhat.
Alums of Brainstation work in all of the major tech companies, including Google, Amazon, Facebook, Slack, Twitter, Warner Media, and Deloitte, demonstrating the high level of education provided by Brainstation.
6. Data Science Bootcamp by Springboard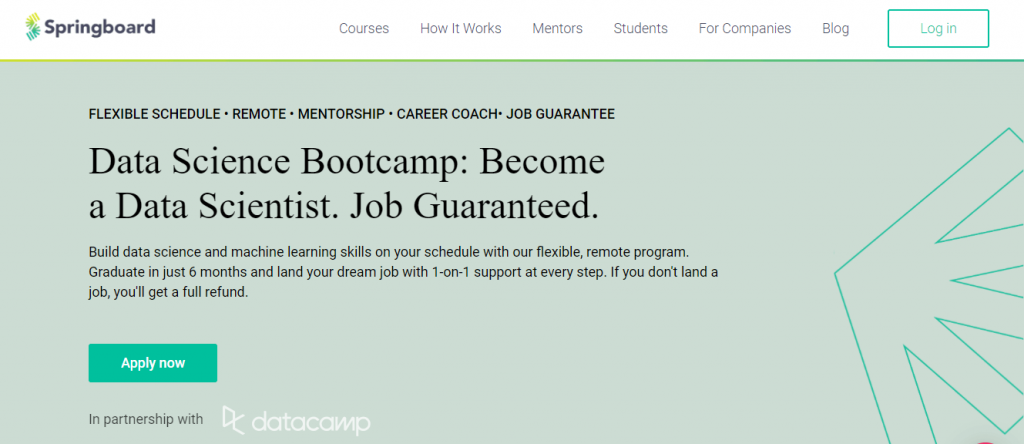 Springboard data science bootcamp is entirely online, remotely accessible, and self-paced. Springboard is a support system, coach, and cheerleader for working individuals who want to develop in their jobs or make a substantial career shift.
This 500+-hour part-time bootcamp is best suited for beginners-level students. It covers the fundamentals of data sciences, Excel, CSV, JSON, Python, SQL, NoSQL, and Natural Language Processing (NLP). If you study 15-20 hours per week, you should be able to complete it in 6 months. Springboard's adaptive learning framework, on the other hand, allows students to complete their studies faster if they can spend more time each week.
The total tuition for the program is $9,900. If you pay in full for the program, you will receive a 13% tuition discount, making it an economical data science bootcamp alternative.
The career services staff at Springboard aids students with their job search by preparing them for interviews and networking opportunities. The tuition-refund guarantee at Springboard provides students with a six-month chance to find a job. Since the launch of Springboard in 2013, 94% of qualifying graduates have found work within a year.
7. Online Data Science Bootcamp by Dataquest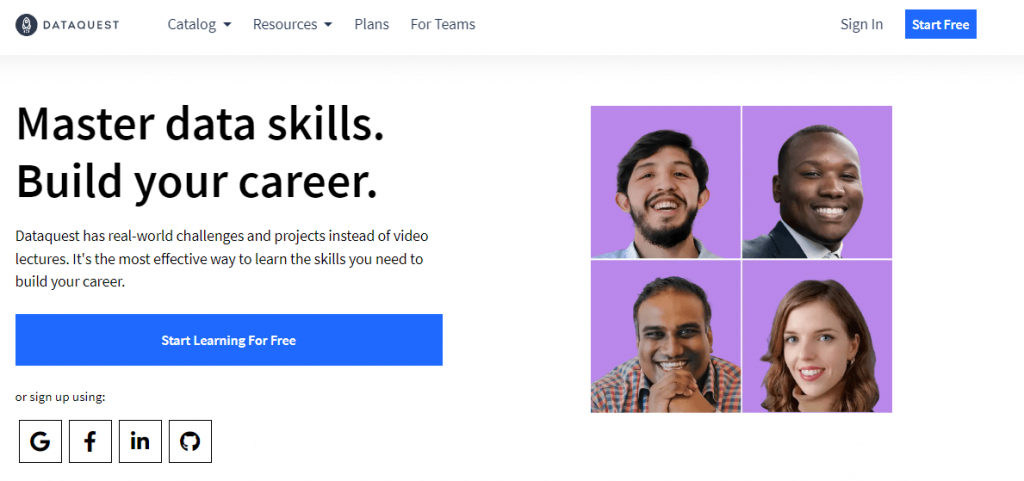 The Data Scientist Training in Python course from Dataquest provides a foundation in Python, SQL foundations, statistics, machine learning, deep learning, Apache Spark, and other topics. Individual online and self-paced courses in specialized areas such as data visualization, data cleansing, APIs, web scraping, and so on are also available.
Different Dataquest courses are designed for beginners, making them accessible online to remote students of all backgrounds. You can complete the bootcamp in 3 to 9 months. The pricing is not listed on the website so you need to contact the academic counselor for pricing and financing queries.
8. Data Science Bootcamp by NYC Data Science Academy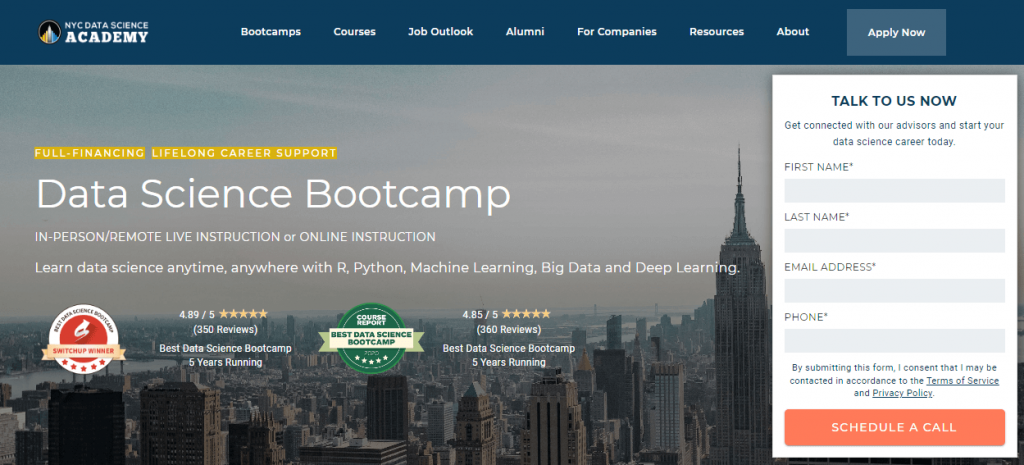 Through its online and on-campus programs, the NYC Data Science Academy Bootcamp educates students on how to go into data science.
The complete bootcamp program includes fundamental and intermediate ideas, with possibilities for specialization in big data technologies or deep learning. On-campus students receive real-time instruction, whereas online students can access learning materials at any time and from any location.
Each applicant must have a Bachelor's degree and some experience with coding or statistics.
The NYC Data Science Academy offers a LinkedIn profile review, career counseling sessions, and technical and behavioral interview preparation. Graduates have lifetime access to recruiting and networking opportunities.
The price of the bootcamp is $17,600 which is on the pricier side but you can apply for merit and post-graduate scholarship. This 16 weeks bootcamp is a perfect opportunity for beginner-level students to learn the principles of data sciences.
9. Data Science Bootcamp by Coding Dojo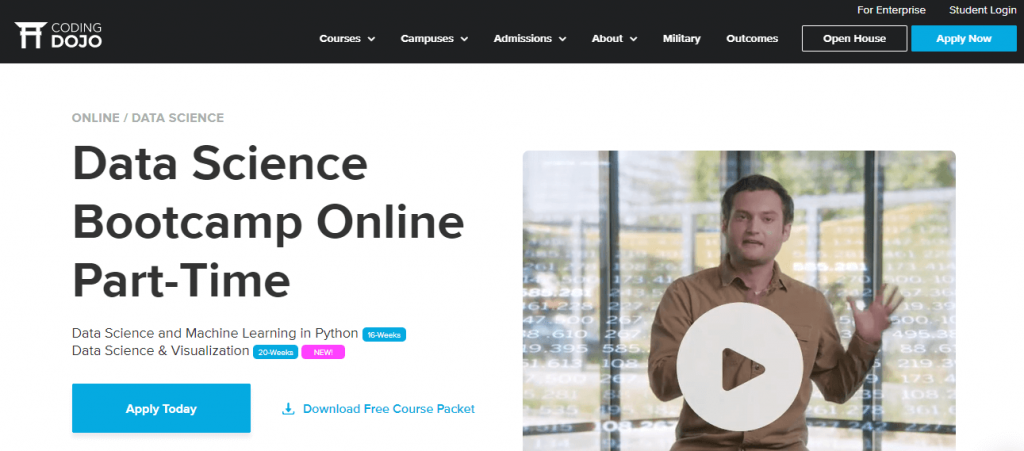 Coding Dojo data science bootcamp is totally online or remote, allowing you to learn new topics while relaxing at home. Furthermore, from CompTIA Security+ to CySA+ certifications, it equips students with critical skills for logistic regression, hierarchical clustering, K-Means clustering, using SQL, and deep learning.
Students in these beginner-level bootcamps learn the principal concepts of data sciences. The Coding Dojo program costs $11,745 for 16 weeks and $13,745 for 20 weeks.
It can be paid in whole or with personal borrowing. Scholarships are also available for people earning less than $40,000 per year, women, minorities, veterans, and students wishing to change careers.
The bootcamp lasts up to 20 weeks and included intensive study and training that can lead to jobs with large corporations such as Apple, Amazon, Microsoft, Expedia, DocuSign, JPMorgan Chase, and Skytap.
10. Data Science Bootcamp by WeCloudData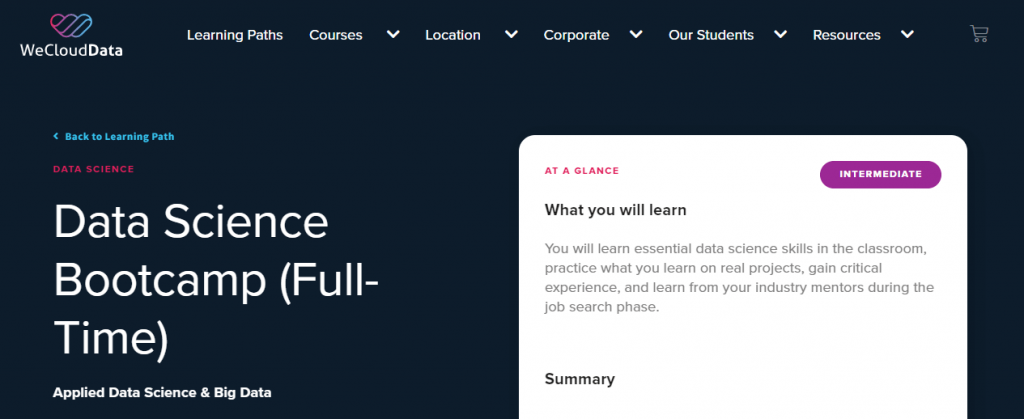 WeCloudData is a data science and AI school that provides data science bootcamps, a diploma program, and learning routes consisting of sequential courses.
This remote data science bootcamp will help you learn fundamental data science skills in the classroom, apply what you learn on real-world projects, obtain valuable experience, and learn from industry mentors.
Part-time and full-time 6-month data science bootcamps are available that can be completed for $8,000 for the part-time data science bootcamp, and $12,500 respectively. Compared to the average cost of data science bootcamps i.e $15,000 – this one is pretty affordable. Financing options are also available in the form of grants, scholarships, and personal loans.
The data science bootcamp is designed for intermediate-level students and the curriculum is created by data scientists, industry recruiting managers, and partners.
11. Data Science Bootcamp by SIT Academy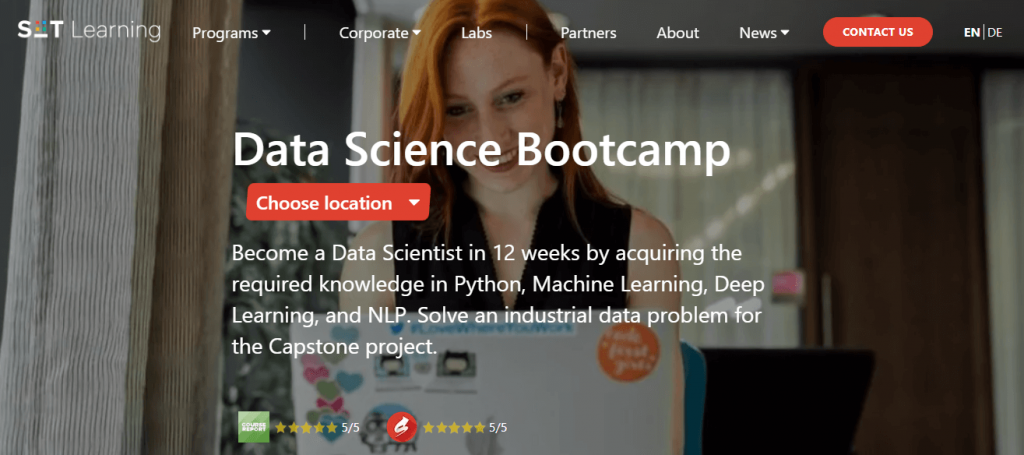 SIT Academy provides a full-time, 12-week data science bootcamp with sessions Monday through Friday for recent grads, entrepreneurs, and practitioners looking to extend their existing skill set. In Munich, on-site training is provided. There are also online courses accessible. Statistics, machine learning, natural language processing, deep learning, Python, and R are all covered in the course. The course ends in a final data project completed in partnership with experts from the real world.
This bootcamp is priced at $12,389 for remote, $13,448 for Zurich, and $12,723 for Munich which is a pretty affordable price. Even though the financing option or job placement opportunities are not listed on the website, you can ask your academic counselor about the scholarship details.
12. Online Data Science Bootcamp by CodingNomads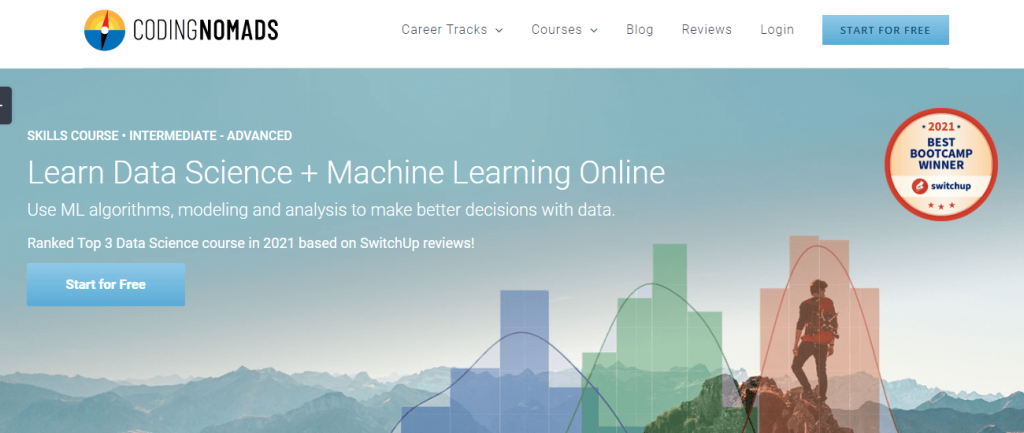 CodingNomads provides a remote data science bootcamp that can help you understand the core concepts of the field. It's a 12-week online course that requires beginners to work between five and 15 hours per week.
The bootcamp costs $9 per month for content and a forum, $29 per month for a premium bundle, $899 per month for a monthly intense program, and $2,499 for a three-month intensive program. You can also select a financing option or apply for a scholarship.
The program is divided into several tiers: a monthly content + forum offering that includes access to a members-only forum, a premium monthly bundle that includes access to all of CodingNomads' courses and the forum, a month-to-month intensive program with mentor support, and a three-month intensive program with mentor support.
13. Online Data Science Bootcamp by Practicum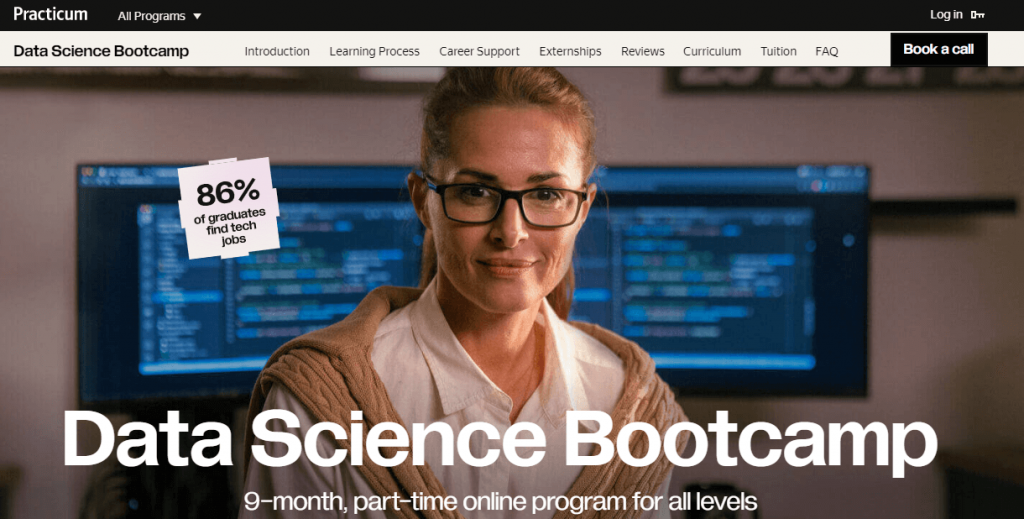 Practicum's data scientist bootcamp is a 9-month part-time online bootcamp that teaches Python, statistical hypothesis testing, machine learning, natural language processing, computer vision, SQL, and professional soft skills.
The bootcamp is ideal for beginners since it covers the fundamental ideas of data science. The bootcamp costs $11,000, which is rather reasonable. You can pay the fee upfront, apply for a loan, pay it back after securing a job, or set up a monthly installment plan for the payment. The externship program is also offered along with the course where you take on real projects to improve your learning of data sciences.
Data Science Bootcamp FAQs
If you want to work in data science, attending a bootcamp might be well worth your time. Data science bootcamps are often less expensive and less time-consuming than standard college degrees. Bootcamps may also provide additional hands-on learning opportunities.
It only takes three steps to apply for a Data Science Bootcamp:
Interested candidates must apply online by filling out the application form.
Candidates will be shortlisted by an admissions panel based on their application.
Candidates that are chosen are offered an admission offer, which they can accept by paying the bootcamp fee.
The cost of a Data Science bootcamp can range from $5,000 to $18,000. Some bootcamps charge less for self-paced courses. The cost also varies depending on how comprehensive a bootcamp is.
Beginner-level Data Science bootcamps sometimes do not require any prior experience or a formal degree. Instead, short soft-skills examinations are used to examine critical thinking and logical reasoning.
Yes, a Data Science bootcamp will almost certainly help you obtain a job, with the great majority of data science bootcamp grads stating that they found work in the industry within a few months.
Conclusion
If you want to change jobs or just upskill, data science bootcamps are an effective and thorough solution to master the essential skills and tools of the trade. Many of the data science bootcamps we've featured provide collaborative, hands-on instruction as well as career help once you finish.
Now that we've shortlisted some of the best data science bootcamps currently available, what comes next? Well, it's time to select the bootcamp that suits your requirements and start an exciting, rewarding career in data science.
We hope this blog helped you find the answers you were looking for. Feel free to browse through our site for any information you need about any college-related topic.