As more of the world's sensitive information, salaries, and assets are traded and held online, one field's need increases directly: cybersecurity. Cybercrime is estimated to inflict $10.5 trillion in yearly losses by 2025, and cybersecurity specialists will be needed to counteract this.
So, you've decided to defend digital assets by becoming a cybersecurity expert. In that case, you'll be glad to hear that cybersecurity specialists are in great demand and are getting an average base salary of $95,350 annually.
However, although it is evident that cybersecurity specialists are in great demand, the path to becoming a cybersecurity professional is more complex. There are several options for obtaining a cybersecurity education. First, of course, you can complete a degree program, but you can also learn the ins and out of cybersecurity by enrolling in a Bootcamp.
Keeping this in mind, we've created this guide just for you. To assist you in your quest, we've produced a list of the 13 best cybersecurity bootcamps. We also have some advice and information on what constitutes a good bootcamp and how to make the most of the one you select.
Let's get started.
What Are Cybersecurity Bootcamps?
A cybersecurity bootcamp is a training program (primarily online) that provides the knowledge and tools you need to land your first cybersecurity job. Most curricula incorporate hands-on exercises and projects that imitate real-world employment tasks.
While schools are recognized for their extensive academic study, bootcamps focus on hands-on training with the tools, challenges, and inner workings of a typical cybersecurity profession. This is because many bootcamps seek to prepare students for an entry-level job within a few months, and some even assist you in landing your dream position!
What Are Our Criteria for Selecting Top Cybersecurity Bootcamps?
Considering the number of cybersecurity bootcamps available, we found it challenging to select the top 13 bootcamps. The ones we finalized in our list met the following criteria:
Offers a comprehensive cyber security program
Is taught by experienced teachers and mentors
Provides career counseling
Offers 20+ hours of class time each week for at least eight weeks
Prepares the student for the CISSP, Security+, and GCIH tests
Have graduated at least one cohort of students
We also looked for any scholarships or creative financing arrangements offered when selecting the best bootcamps.
13 Best CyberSecurity Bootcamps
Cybersecurity bootcamps allow graduates to enter the cybersecurity sector immediately by learning the needed skills in a limited time. These bootcamps teach students ethical hacking, malware, penetration testing, and vulnerability assessments to understand cybersecurity. So, let's locate the top cyber security bootcamps now, shall we?
1. Cybersecurity Bootcamp by Claim Academy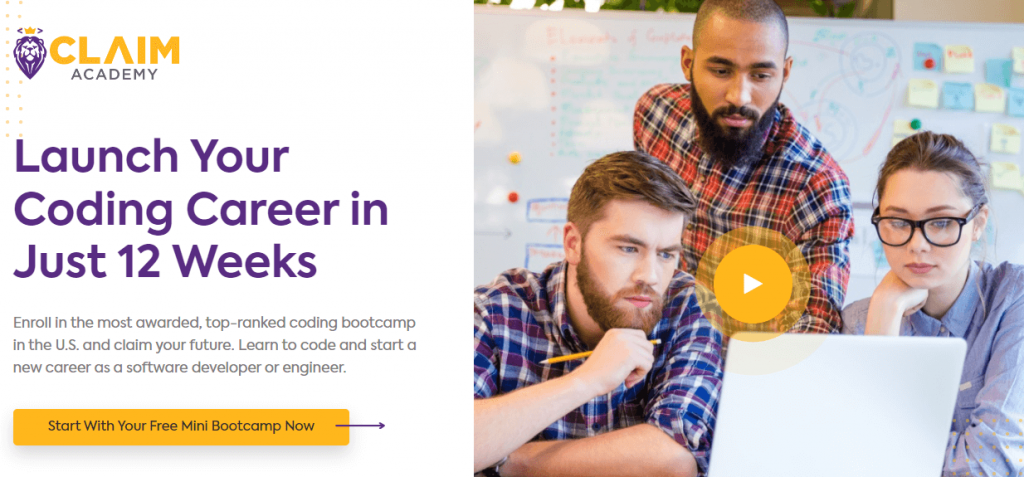 Claim Academy is based in St.Louis, where you can attend the cybersecurity bootcamp physically. In addition, an online cybersecurity bootcamp is available for those who prefer learning in the comfort of their home. The bootcamp consists of extensive and intensive learning of cybersecurity principles in 12 weeks but can be extended to 20 weeks.
Cybersecurity bootcamp by Claim Academy will cost you around $15,499.00. However, the pricing is pretty average for a bootcamp, and scholarships are available for women, veterans, college upgrades (within a year of graduation), and minorities (native Americans, Pacific Islanders, and African Americans).
This cybersecurity bootcamp is perfect for beginner-level students who want to learn cybersecurity analysis and step into cybersecurity and data management. Large corporations have employed graduates of Claim Academy, like Accenture, FedEx, IBM, Master Card, Carfax, Technology Partners, Centene Corporation, Clearent, and OneSpace – you can be one of them!
2. Cybersecurity Course by Code Fellows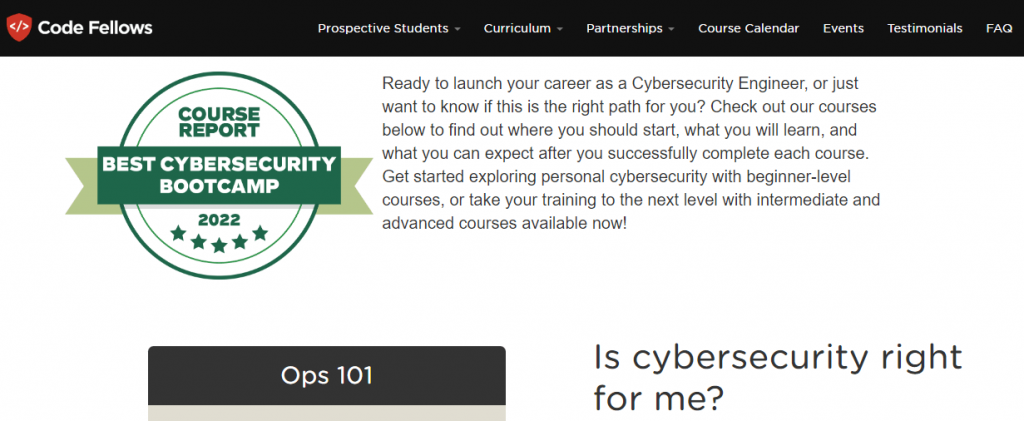 Code Fellows offer cybersecurity bootcamps for beginner to advanced-level students. There are four bootcamp, and you can select one depending upon the skills you want to acquire. The bootcamps are online, so you need a reliable internet connection to access them. If you are in Seattle, you can join the bootcamp on campus.
Code Fellows cybersecurity bootcamp includes deep and rigorous learning of cybersecurity fundamentals, malware, and ethical hacking. Over 15-20 weeks, students can learn cloud security, data security, core SecOps tooling, and skill.
Code Fellow cybersecurity bootcamp will cost you roughly $11,100.00. The cost of a bootcamp is around average, and subsidies are available for women, veterans, college upgrading (within a year of graduation), and minorities (native Americans, Pacific Islanders, and African Americans). Code Fellows graduates work at Microsoft, Amazon, Zillow, XBOX, Expedia, NIKE, Starbucks, Amazon, Starbucks, and Nordstrom, and you can become one of them by joining this bootcamp.
3. Cybersecurity Bootcamp by Springboard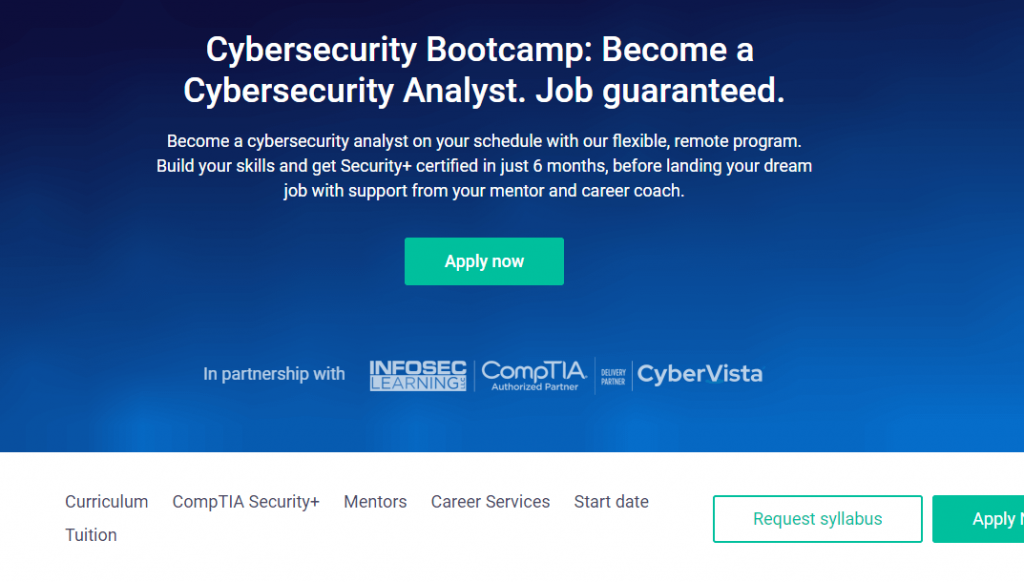 Springboard cybersecurity bootcamp is 100% online, remote, and self-paced. Springboard serves as a support system, coach, and cheerleader for working people who are ready to advance their careers or make a significant career change.
This 380-hour part-time bootcamp is best for beginner-level students. It teaches cybersecurity foundations, system and network security, vulnerability assessment, and security operations. You should finish it in 6 months if you study 15-20 hours a week. However, Springboard's adaptable learning framework enables students to complete their studies sooner.
The program's total tuition is $11,340. However, if you pay for the program in full, you will receive a 13% tuition reduction making it an affordable cybersecurity bootcamp option.
Springboard's career services team assists students with their job hunt by preparing them for interviews and networking opportunities. Springboard's tuition-refund guarantee gives students a six-month window to find work. Since Springboard's inception in 2013, 94% of qualified graduates have found employment within a year.
4. Cybersecurity Course by Fullstack Academy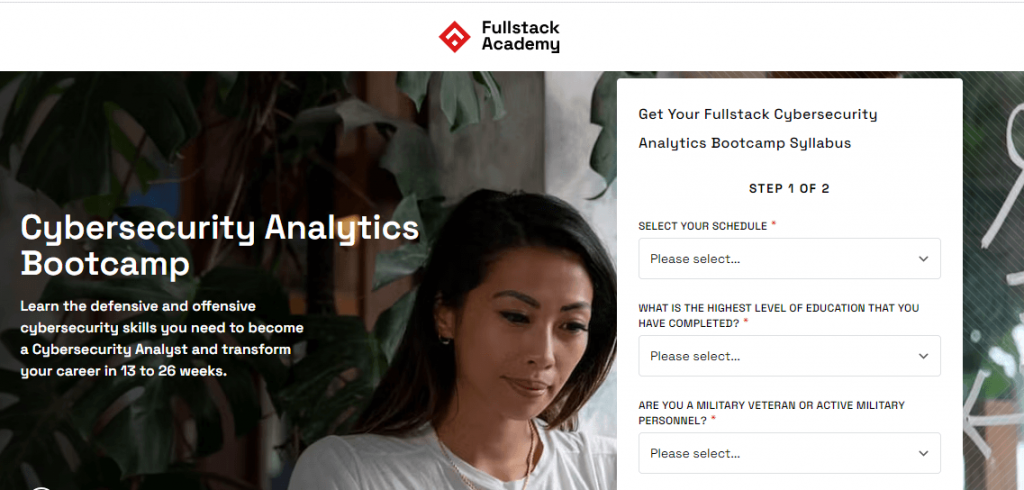 This bootcamp is best for beginner-level students. They can learn the defensive and offensive cybersecurity abilities required to become cybersecurity experts and improve their careers. Furthermore, other principle topics such as Basic Cryptography, Data Encoding, Networking, and HTTP are also focused on in the bootcamp.
The bootcamp can be completed in 13 to 26 weeks and offers a choice among physical and online learning options.
Fullstack Academy bootcamp costs $15,980, which a student can pay in cash, with a personal loan, with veteran benefits, or by asking for a scholarship. Of course, the cost is higher, but focusing on the topics and one-on-one sessions justifies this hefty price tag.
Fullstack Cyber Bootcamp Alums are hired by industry heavyweights such as the IRS, Accenture, CIS, and The New York Times.
5. Cybersecurity Bootcamp by Coding Dojo
Coding Dojo Cybersecurity bootcamp is entirely online or remote so that you can learn new concepts from the comfort of your home. In addition, it provides students with crucial skills for identifying, assessing, reporting, and mitigating technology and information security issues, from CompTIA Security+ to CySA+ certifications.
These advanced-level bootcamps teach the students how to detect and manage information system vulnerabilities, build effective defenses and preventative measures, and launch countermeasures against attackers.
The pricing of the Coding Dojo bootcamp is $16,495, which is a bit pricey. It can be paid upfront or through personal loans. Furthermore, scholarships are available for those making less than $40,000 yearly, women, minorities, veterans, and students looking for career reinvention.
The bootcamp spanned 20 weeks of intense learning and training that can land you a job in major companies, including Apple, Amazon, Microsoft, Expedia, DocuSign, JPMorgan Chase, and Skytap.
6. Cybersecurity Course by Brainstation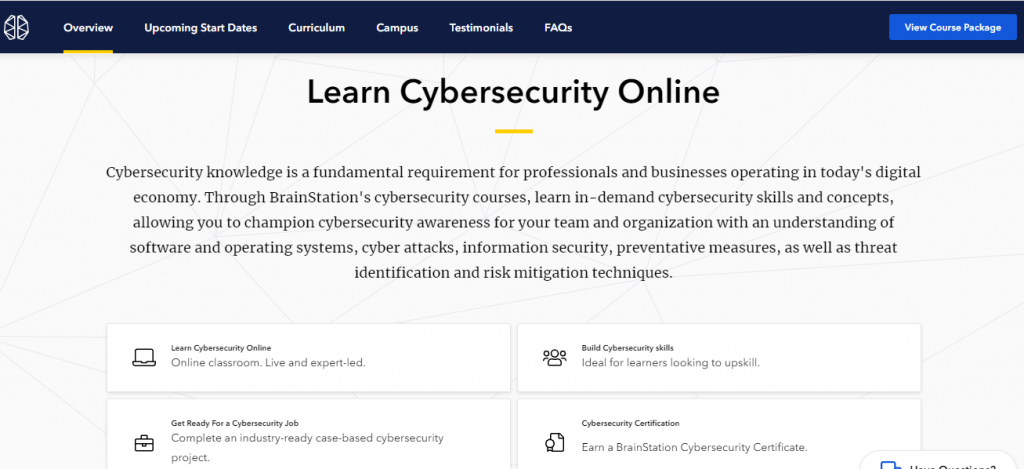 BrainStation's cybersecurity bootcamps typically take 6 to 12 weeks to finish. They are ideal for beginners level students as they can thoroughly grasp the principles of cybersecurity, data protection, and ethical hacking and learn how to use these new skills and knowledge.
BrainStation cybersecurity bootcamps are immersive and project-based, allowing the students to graduate with a portfolio of completed projects. BrainStation also offers part-time bootcamps that last eight months for students who want more freedom.
You can select the remote option or attend the bootcamps on Miami, New York, Toronto, London, and Vancouver campuses.
The cost of the bootcamp is $15,000, which is justified considering the depth of the topics focused in the bootcamp. However, students can also avail of scholarships specified for minorities, women, and veterans, so the overall package will be significantly reduced.
Brionstation alums are working in all the major tech giants, including Google, Amazon, Facebook, Slack, Twitter, Warner Media, and Deloitte, indicating the quality of education offered by Brainstation.
7. Cybersecurity Bootcamp by Eleven Fifty Academy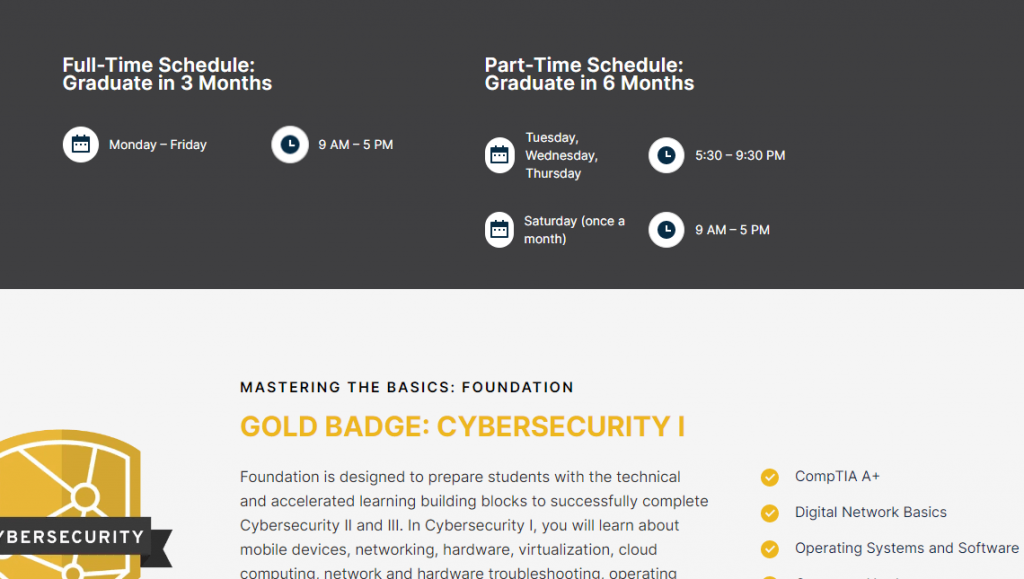 This pick is one of the cheapest cybersecurity bootcamp available to the beginner who wants to transition into cybersecurity. Eleven Fifty Academy offers the option of on-campus (Indianapolis) or remote learning where you can attend the bootcamp from anywhere. Full-time and part-time bootcamps are available and can be attended for six months.
The overall cost of Eleven Fifty Academy is $7,500, which is pretty affordable considering the average price of a cybersecurity bootcamp. The students can pay upfront, apply for scholarships, Progressive Income Share Agreement (pay when you start earning), employer-sponsored payment, personal loan, or Workforce Ready Grant (WRG).
Overall, we highly recommend checking out this cybersecurity bootcamp.
8. Cybersecurity Course by Flatiron School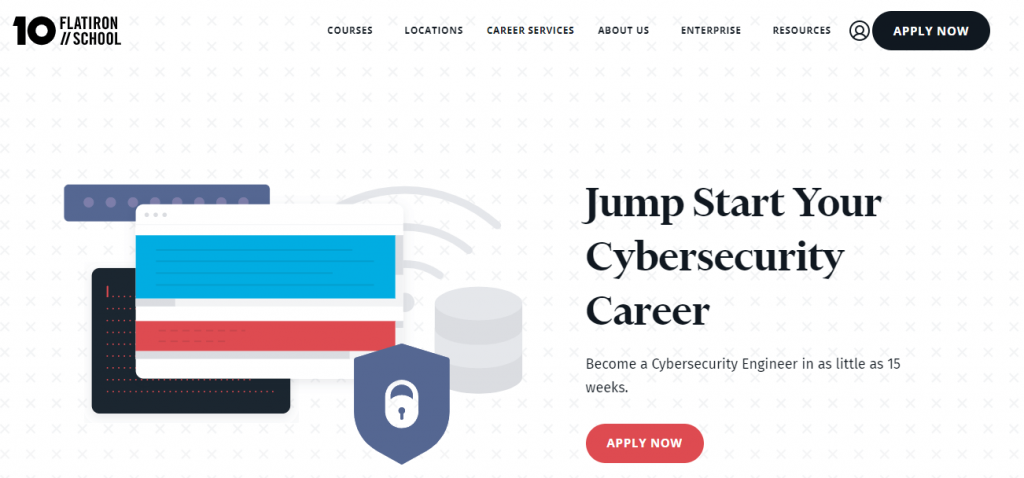 Flatiron School's cybersecurity bootcamps usually last 15 to 20 weeks. They are great for beginner-level students since they may understand the fundamentals of cybersecurity, data protection, and ethical hacking.
The cybersecurity bootcamps offered by Flatiron School are immersive and project-based. In addition, Flatiron School offers part-time and online bootcamps that run for eight months for students who prefer more independence.
You can also attend cybersecurity bootcamps offered by Flatiron School on Denver and New York campuses. The total cost of the bootcamp is $16,900, which can be paid upfront, in installments, or via personal loans. Considering the average cost of cybersecurity bootcamps, the price is moderate.
9. Cybersecurity Bootcamp by Kable Academy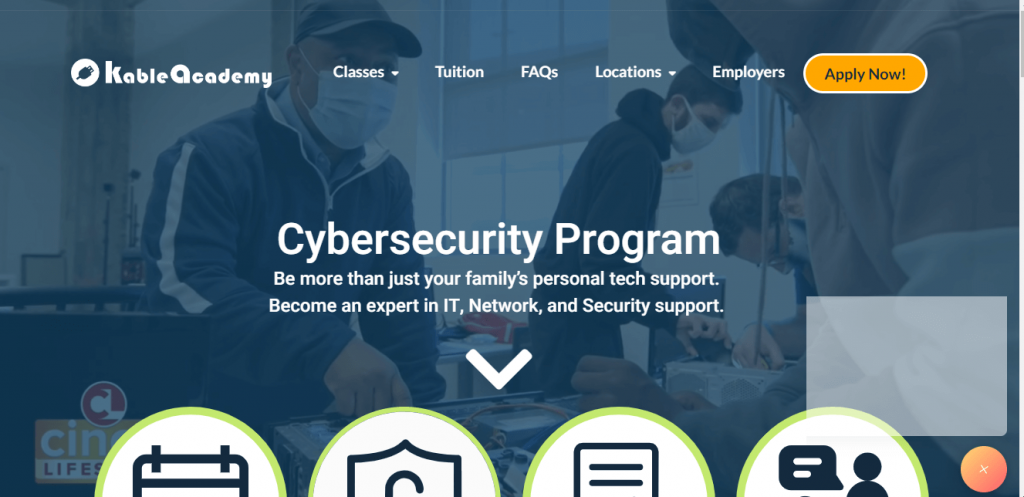 Kable academy security bootcamp offers a chance for beginner-level students to learn the essential concept of cybersecurity. The campus is located in Cincinnati, Ohio, but you can also opt for the remote or online bootcamp option.
Cybersecurity bootcamp can be completed in 12 weeks (full-time) or 24 weeks if you attend part-time. The bootcamp is focused on preparing the students for A+, CompTIA IT Fundamentals, Network +, or Security + certifications.
Even though the pricing is not mentioned, scholarship is available for women, veterans, and minorities. Furthermore, you can select the funding option where you pay after securing a position. After graduating from this bootcamp, you should be able to find high-paying jobs in top companies.
10. Cyber Defense Course by Level Effect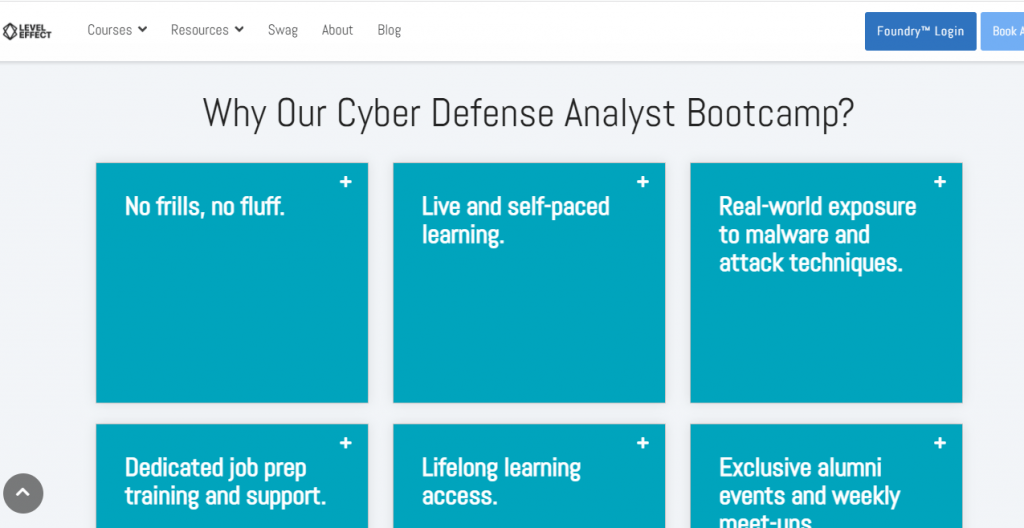 Here is another impressive pick for beginner-level students who want to grasp cybersecurity fundamentals! This cybersecurity bootcamp by Level Effect is self-paced and online so that you can set your schedule.
Level Effect offers multiple discounts, financing options, and scholarships that significantly reduce the course cost from $11,000. After the discount, the course pricing becomes quite affordable.
The Bootcamp employs military-style training approaches to provide pupils with a wealth of knowledge in 13 weeks. The content is organized so that each module builds on the skills and tools learned in prior ones. As a result, students will acquire new tools and methods as they advance through the bootcamp while reinforcing their understanding of those they have previously studied. Needless to say, students of Level Effect can easily find high-paying jobs.
11. Cybersecurity Course by Simplilearn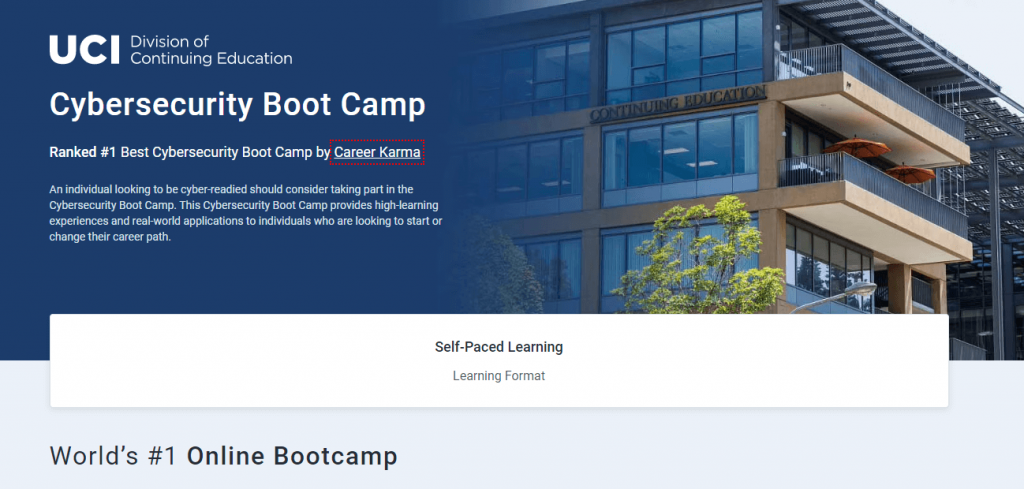 Simplilearn cybersecurity bootcamp is ideal for beginner-level students as it provides learners the best chance of success in the professional world. This bootcamp includes live online lessons from world-class industry practitioners and highly-rated trainers, integrated online laboratories, projects, case studies, industry masterclasses, and 24/7 support.
The bootcamp is online and self-paced so you can choose your own schedule. The pricing is not specified, but the scholarship is available so you can apply for one. Simplilearn alums are currently working in major industries, including Oracle, Netflix, Deloitte, Accenture, Abbott, IBM, and Intel.
12. Cybersecurity Bootcamp by Kenzie Academy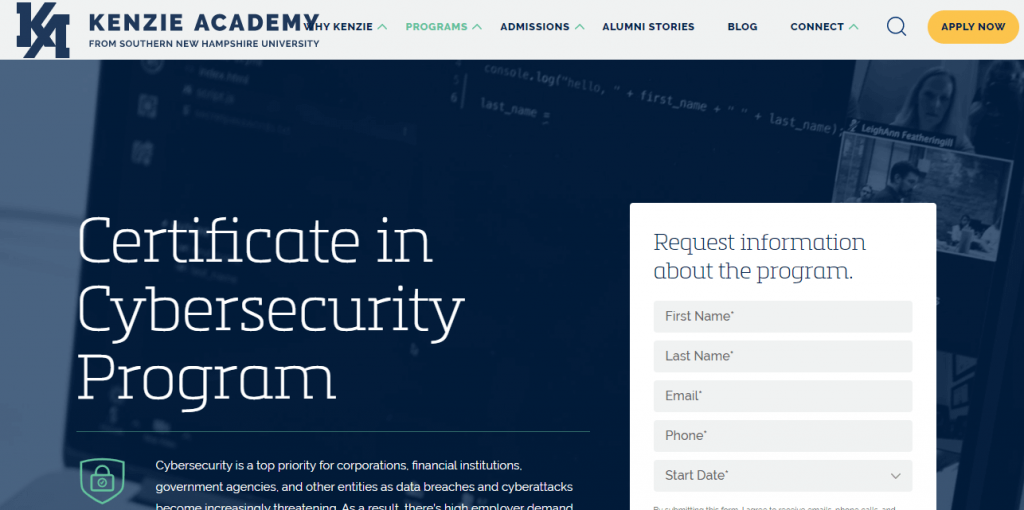 Kenzie Academy's cybersecurity certification can help beginner-level learners understand cybersecurity's basic principles, including data protection, data asset management, and ethical hacking.
The duration of this certification is 9 months, and you can select the online option where you can learn at your own pace. In addition, the certification is available at an affordable price of $10,000.
Unfortunately, the scholarship option is unavailable, but you can pay the cost in installments. Kenzie Academy is one of the few bootcamps that accept the Free Application for Federal Student Aid (FAFSA), so you can apply for student aid.
Job prospects after completing Kenzie Academy's certification are great too. You can find high-paying jobs in top cybersecurity firms from around the world.
13. Cybersecurity Course by The Tech Academy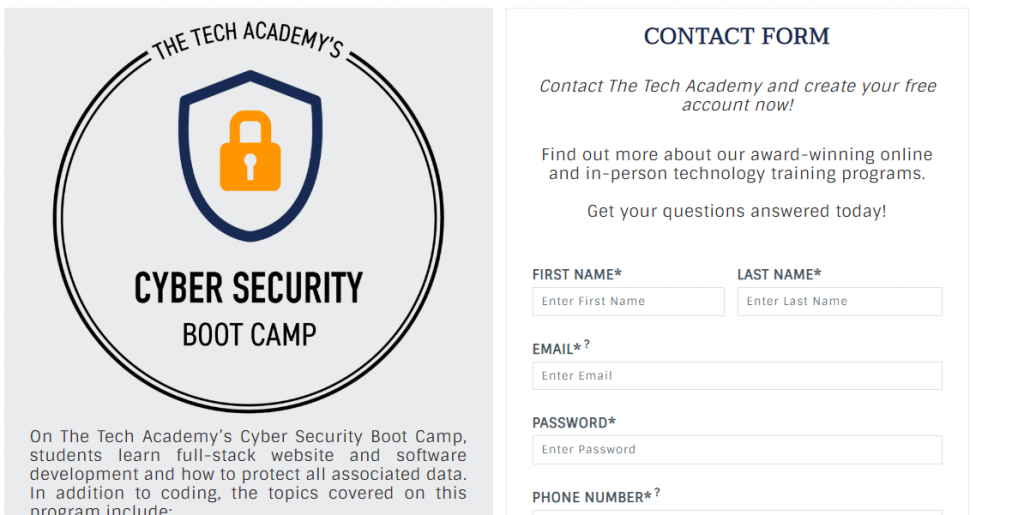 The Tech Academy is a trade school based in Portland, Oregon, that provides full-time and part-time cyber security bootcamps both online and on-campus.
The course consists of 800 hours of study content and can be completed per the student's set schedule, so there is no specific course duration.
Pricing and financing options are unavailable on the website, but you can always ask the admission counselor for any future possibilities.
This course is best for beginner-level students as it explores the principal concepts of cybersecurity, including hardware, networks, software, websites, apps, and the cloud. Overall, we highly recommend this course as it can surely open better job prospects for you.
Cybersecurity Bootcamp FAQs
If you want to work in the ever-changing cybersecurity industry, cybersecurity bootcamps provide a more rigorous, time-efficient education choice than typical, four-year degree programs. The rapid, in-depth curricula of bootcamps offer students the skills they need to begin their professions, so they are worth your time and effort.
Applying for a Cybersecurity Boot Camp is as simple as three steps:
Interested candidates must apply online by completing the application form.
An admissions panel will shortlist candidates based on their application.
Selected candidates are sent an admission offer, which they may accept by paying the bootcamp fee.
Cybersecurity bootcamps are less expensive than standard college degrees. Nonetheless, they necessitate a significant financial commitment. The cheapest cybersecurity bootcamps, in particular, start at $10,000. More pricey alternatives vary between $15,000 and $18,000.
Beginner-level cybersecurity bootcamps often do not require any formal degree or prior experience. Short soft-skills assessments are utilized instead to evaluate a candidate's critical thinking and logical reasoning.
Graduate certificate programs in cybersecurity are academic programs offered by higher education institutions that often give master's degrees in cybersecurity, while bootcamps are professionally oriented training programs primarily offered by private firms (although some colleges and universities also provide intensive bootcamps).
Because graduate certificate programs in cybersecurity commonly overlap with master's degrees in cybersecurity or a similar discipline, the course credits students earn from a graduate certificate program are often transferable to a master's degree. In most cases, bootcamps do not award academic credits.
A cybersecurity course can refer to any curriculum, but "cybersecurity bootcamp" refers to a short, rigorous course that frequently aims to produce job-ready graduates.
However, because these phrases are sometimes used interchangeably, comparable services may be delivered under various names.
Conclusion
Bootcamps have become a popular mode of learning since they may help you break into a new job path or boost your current skill set and, in some circumstances, your salary.
Cybersecurity, like most fields in the tech industry, is interesting, lucrative, and has a lot of scope for learning and growth. So if you have been interested in this field, find the bootcamp from our list of the best cybersecurity bootcamps and get ready to step into the world of information technology and cyber security!
We hope this blog helped you find the answers you were looking for. Feel free to browse through our site for any information you need about any college-related topic.