If you're someone who prefers hands-on learning, wants to jumpstart your career, and dreams of making a living doing what you love, then this blog post is for you. You're probably well aware of ' traditional college degrees, but did you know there are other educational institutions where you can get hands-on training in specific trades and skilled occupations? Trade schools are just the ticket!
Trade schools offer specialized programs that are designed to prepare you for careers in industries like automotive technology, construction, carpentry, culinary arts, cosmetology, and many others. This article will give you insights into what a trade school is, how you can enroll for one, as well as the difference between a regular college degree and a trade school degree. You would also discover the diverse career options available to you once you complete your education from a trade school.
What Is a Trade School?
Trade schools, also known as vocational schools or technical schools, are a type of educational institution where you can learn practical skills for specific trades or careers. Unlike traditional schools that focus primarily on academic subjects, trade schools offer hands-on, practical training that helps you develop expertise in a particular field. These schools specialize in providing skills that help you learn the practical aspects of jobs like plumbing, carpentry, automotive repair, cosmetology, and more. If you want to prepare yourself for a specific career and wish to learn the necessary practical skills, without spending years in a traditional college, then trade schools are a great option for you.
What Do You Call a Degree from a Trade School?
Completing a program at a trade school will help you get a certificate or a diploma instead of a traditional degree. These certificates and diplomas serve as proof that you have successfully completed the training program and have the necessary skills for a specific occupation or trade. In certain professions, while they may not carry the same weight as a bachelor's or master's degree, they hold significant value in the job market, as they demonstrate your practical knowledge and expertise in the occupation of your choice.
The bottomline is – instead of a degree, you'll typically earn a certificate or a diploma from a trade school.
Let's take a quick look at the advantages and disadvantages of attending a trade school to help you understand whether a trade school is the right choice for you.
Pros and Cons of Attending a Trade School Over a Four-Year College
Here are some pros and cons of attending a trade school compared to a four-year college:
| | |
| --- | --- |
| Pros | Cons |
| Cost: Tend to be more affordable than four-year colleges. The programs are shorter, which means you spend less time and money on tuition fees. | Limited Scope: Typically specialize in specific trades or professions, so if you decide to switch careers later on, your training may not be as versatile. |
| Practical Skills: Focus on hands-on training, giving you specific, job-ready skills for a particular trade or profession. | Less emphasis on theoretical knowledge: Often prioritize practical skills and hands-on training over theoretical knowledge. This could lead to a narrower understanding of the subject matter compared to a more comprehensive academic program. |
| Job Placement: Often have strong connections with employers in the industry, increasing your chances of finding employment soon after graduation. | Credential Recognition: While certificates and diplomas from trade schools are valuable in many industries, some employers may prioritize candidates with traditional degrees. |
| Quick Entry into the Workforce: Since trade school programs are shorter, you can start working and earning a salary sooner than if you pursued a four-year degree. | Less Flexibility: Often have fixed schedules and limited options for part-time or online learning, which may be challenging if you need more flexibility. |
The decision between trade school and a four-year college is entirely dependent on your career goals, personal preferences, and financial situation. Consider these factors and choose the path that aligns with your aspirations.
Once you finish trade school, what next? Let's look at the job security and career flexibility trade schools have to offer.
Job Security And Career Flexibility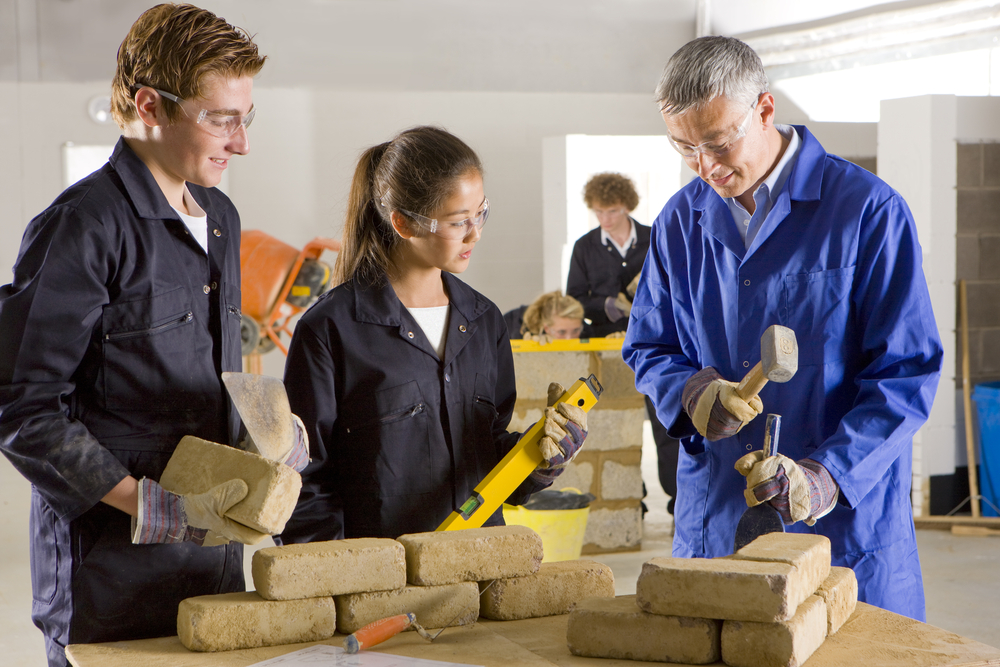 It's quite common to wonder if trade schools promise the same job security and flexibility to switch careers as a college. Well, here are some unique advantages offered by trade school on that front:
Job Security with Trade Schools:
In-Demand Skills: Trade schools focus on offering specialized training for trades or occupations that are often in high demand. These skills, such as electric work, plumbing, welding, carpentry, professional cooking or hair styling, are essential and continue to be vital to various industries.
Practical Experience: It is a notable feature of trade school programs that they offer hands-on training, allowing you to develop real-world skills that employers value. This practical experience makes you more marketable and increases your job security.

Essential Services: Popular trade occupations involve providing essential services like construction, electronic repair, automotive repair, hair styling, massage therapy or teacher assistance. These industries tend to be more resilient to economic downturns, ensuring greater job security during challenging times.
Career Flexibility with Trade Schools:
Versatility within Trade Fields: While trade schools specialize in specific trades, many industries offer various career paths and opportunities for growth. For example, within the field of culinary arts, you can choose to explore diverse roles such as chef, pastry chef, or a restaurant manager.
Transferable Skills: Trade schools often teach transferable skills such as customer service, team work, critical thinking, or problem-solving. These skills are valuable in different careers and can offer you the flexibility to transition to a related field.
Entrepreneurship Opportunities: With trade school training, you could build the skills to start your own business in your chosen trade. This entrepreneurial freedom gives you more control over your career and allows you to be your own boss.
While trade schools offer job security and career flexibility within their respective fields, look at specific industries and occupations that interest you to learn more about the job market, growth potential, and any additional certifications or licenses required for certain positions.
How to Find to a Trade School
Finding a trade school is pretty easy. Here are 7 easy steps to get you started:
Step 1 – Ask around: Talk to your friends, family, high school seniors or even teachers. Someone might have some good recommendations for trade schools.
Step 2 – Use the internet: Hop online and do a quick search for trade schools in your area. You'll find credible websites online that list various trade schools and their programs.
Step 3 – Check for vocational organizations: You can look for vocational organizations or associations related to the trade you're interested in. Most of them have resources or directories of accredited trade schools.
Step 4 – Attend career fairs: Career fairs or job expos are a great way to learn more about the availability of trade schools in your community. Many trade schools participate in these events to showcase their programs.
Step 5 – Reach out to local employers: Consider contacting local businesses or companies in the industry you want to pursue. Some of them might have partnerships with specific trade schools and can give you some recommendations.
Step 6 – Visit open houses: Once you have a list of potential trade schools, attend their open houses. This might offer an opportunity to explore their facilities, meet instructors, and get a feel for the environment.
Step 7 – Consider financial aid options: Lastly, remember to look into financial aid options that are available for trade school education, such as scholarships, grants, or loans. This could help you make an informed decision.
How to Apply for a Trade School
Applying to a trade school is a straightforward process. Here's a step-by-step guide on how you can apply for a trade school:
Research your options: Start by researching different trade schools and the programs they offer. Look for schools that align with your interests and career goals.
Review admission requirements: Check the admission requirements for each trade school you're interested in. They may require certain documents or qualifications, such as a high school diploma or GED.
Complete the application: Fill out the application form for the trade school of your choice. Provide accurate and honest information about your educational background, work experience, and personal details.
Gather necessary documents: Collect any required documents, such as transcripts, letters of recommendation, or proof of identification. Make sure to have them ready to submit with your application.
Write a personal statement: Some trade schools may require a personal statement or essay. Take the time to craft a compelling statement that highlights your passion for the trade and why you want to pursue it.
Submit your application: Once you have completed the application form and gathered all the necessary documents, submit your application by the specified deadline. Pay attention to any application fees that may be required.
Follow up: After submitting your application, it's wise to follow up with the trade school to make sure they have received all your documents and to inquire about the status of your application.
Acceptance and enrollment: If you receive an acceptance letter from the trade school, congratulations! Follow the instructions provided to accept your spot and complete the enrollment process.
Pro tip: Stay organized, meet deadlines, and provide all the required information to increase your chances of getting accepted into the trade school of your choice.
Career Paths and Salaries After Attending a Trade School
If you've attended a trade school, you are now eligible for various career paths, each with its own salary potential. Here a list of a few examples:
Electrician: After completing an electrician program, you can pursue a career as an electrician. As per recent data, the average salary of an electrician is $60,040 in 2021. With more experience and specialization in the field, there is potential to increase this wage over the years.
Welder: Becoming a welder through trade school training can lead to opportunities in construction, manufacturing, or fabrication. The median annual wage for welders, cutters, solderers, and brazers was $47,010 in 2021, with the potential to earn more based on their skill level and expertise.
HVAC Technician: HVAC (Heating, Ventilation, and Air Conditioning) technicians are in high demand. After completing HVAC training, you can pursue a career in the field. Entry-level HVAC technicians have a median annual wage of about $48,630 with considerable salary growth potential if they earn certifications.
Automotive Technician: If you have a passion for cars, becoming an automotive technician is a great option. After attending trade school, you can work in repair shops or dealerships. Automotive technicians can earn a median annual salary of around  $46,880, with higher earnings as they specialize in specific vehicle types.
Medical Assistant: Trade schools often offer medical assisting programs. As a medical assistant, you can work in hospitals, clinics, or private practices. The median salary for medical assistants is $40,700 per year.

Chef: You could opt to become a chef and would learn the skills to prepare and cook a wide variety of food. As a chef, you would work in various settings, including restaurants, hotels, catering companies, and sometimes private households. BLS states that the median annual wage for chefs and head cooks was $50,160 in 2021.

Teaching Assistant: As a teaching assistant, you would assist a teacher or professor in a classroom setting. You would commonly work in schools, colleges, and universities, and your role would include supporting the instructor in various aspects of teaching and learning. BLS reports that the median annual wage for teacher assistants was $29,360 in May 2021.
While these salary figures are an average depiction of these professions, salary ranges can vary depending on factors such as location, experience, and industry demand. With further experience, certifications, or specialization, trade school graduates can increase their earning potential.
The Bottomline
If you're passionate about a particular skill and want to become an expert in the field, then trade schools might just be the solution for you.
While trade school programs typically last for two years or less, some of them also offer night classes to accommodate working adults who wish to balance their work schedule with their passion to learn new skills. Trade schools can help you set a solid foundation of practical skills needed to kickstart the career of your choice and prepare you for real-world careers that offer a steady paycheck.
Frequently Asked Questions
Absolutely! Trade schools can be a worthwhile option for you if you wish to gain hands-on training and practical skills that are directly applicable to specific industries. Trade school programs are often shorter in duration, and that means you can enter the workforce faster and start earning a salary sooner. Additionally, trade school tuition is typically lower than that of a four-year degree, which can help you avoid excessive student loan debt. Often, trade schools offer specialized programs and certifications that can help you advance your career.
Trade school degrees are typically 2-year programs or less, depending on the skill that you're learning and the program you have enrolled for. Some schools also offer flexible schedules, such as night classes, for students who wish to work while they still study at a trade school.