Are you putting together your resume? Let us walk you through some resume essentials to inspire and guide you. As a business major, you have plenty of job options to choose from, given the fact that business is such a broad field. In order to land your dream job in business, make sure you craft a compelling resume. In this blog, we will help you do exactly that. This guide covers all degree levels and provides corresponding resume templates.
What Is a Business Resume?
In simple words, a resume is a document that clearly lists your qualifications and gives employers a good idea of your skills and abilities. As a business major, your resume may include your educational qualifications, internships, experience, and relevant information. Your resume tells employers what you bring to the table and why you are a good fit for the job.
Being a business major, you're probably well aware of the competitive nature of the business world. To stand out in the crowd, you need a business resume that not only highlights your qualifications but also does it effectively. We'll discuss how to present information impactfully later in this article.
Sections Included in a Resume
Your resume can be customized according to your current status. Here are some general sections included in resumes:
1. Contact Information:
Your contact info is your phone number, email, and address. You want to make sure that your employers can connect with you easily, so make sure to include this information at the very top, looking prominent.
2. Objective Statement or Summary:
This section is right on top, the first thing your employer may read. Think of this as your professional introduction. Share your goals and how you can help the company. Customize it for each job you apply to.
3. Education:
Show off your school history, including where you studied, what degree you earned, when you graduated, and any top grades or awards.
4. Professional Experience:
Talk about your work history, starting with your latest job. Tell them where you worked, what your job was, and when you worked there. If you're still in college, consider tweaking this section into 'Internship Experience'.
5. Skills:
Here's where you list what you're good at. Include job-related skills and qualities. Match them to what the job needs.
6. Achievements and Projects:
Brag about your wins! Share your accomplishments and cool projects you've done to show how good you are at your job.
Customizing your resume according to each job may require more effort, but this step ensures that your resume will stand out and make you seem like a serious candidate. The above list includes general sections Refer to personalized degree-level sections to find the one most apt for you.
What Should Your Resume Look Like?
There are different types of resumes, each with its own pros and cons. Depending on your current status, consider which resume best suits you. Here are some common resume types:
Chronological Resume: Lists work experience in reverse order, highlighting your latest job first and then your previous jobs. Ideal for candidates with work experience and no career gaps. This is a traditional resume option that is still popular.
Functional Resume: Focuses on skills and qualifications; ideal for those with employment gaps, changing careers, and even first-time job seekers as it focuses more on skills. This option is also ideal for students.
Combination Resume (Hybrid): Balances both skills and work history equally. Ideal for those who are looking to showcase diverse careers and skills, mainly mid-level professionals.
Curriculum Vitae (CV): A comprehensive document that details academic and professional achievements, commonly used in academic and research fields.
Depending on your professional status, decide on a resume format that best reflects your strong points.
Business Resume Skills
This section lists some business soft and hard skills that are commonly sought after in the business world.
Here are some business skills for resume:
Soft Skills:
Communication: The ability to effectively convey information, both verbally and in writing, and listen actively to others. Clear communication is essential for collaboration and problem-solving.
Leadership: The capacity to lead and inspire others, make decisions, and take responsibility for achieving goals and outcomes within a team or organization.
Critical Thinking: The skill of analyzing situations, evaluating information, and making informed decisions. Critical thinking is essential for problem-solving and strategic planning.
Adaptability: The ability to adjust to new situations, environments, or challenges, and to remain flexible in the face of change or uncertainty. Business landscapes often evolve rapidly, and adaptability is key.
Creativity – It's the ability to think in new and original ways, to imagine, and to come up with fresh ideas. Creativity is a valuable soft skill for business because it drives innovation, leading to the development of new products, services, and solutions that can give a company a competitive edge in the market.
Hard Skills:
Financial Analysis: Proficiency in financial analysis, which includes skills like budgeting, forecasting, financial modeling, and the ability to interpret financial statements and data.
Data Analysis: The ability to collect, interpret, and analyze data to extract valuable insights and support decision-making. Skills in data analysis tools such as Excel, Python, or statistical software are valuable.
Project Management: Proficiency in project management methodologies and tools to plan, execute, and monitor projects, ensuring they meet goals, timelines, and budget constraints.
Market Research: Competence in conducting market research, which involves skills such as data collection, competitor analysis, and the ability to identify and assess market trends and consumer preferences.
Digital Marketing: With the increasing importance of online presence, skills in digital marketing, including SEO, social media marketing, and online advertising, are highly valuable for promoting products and services.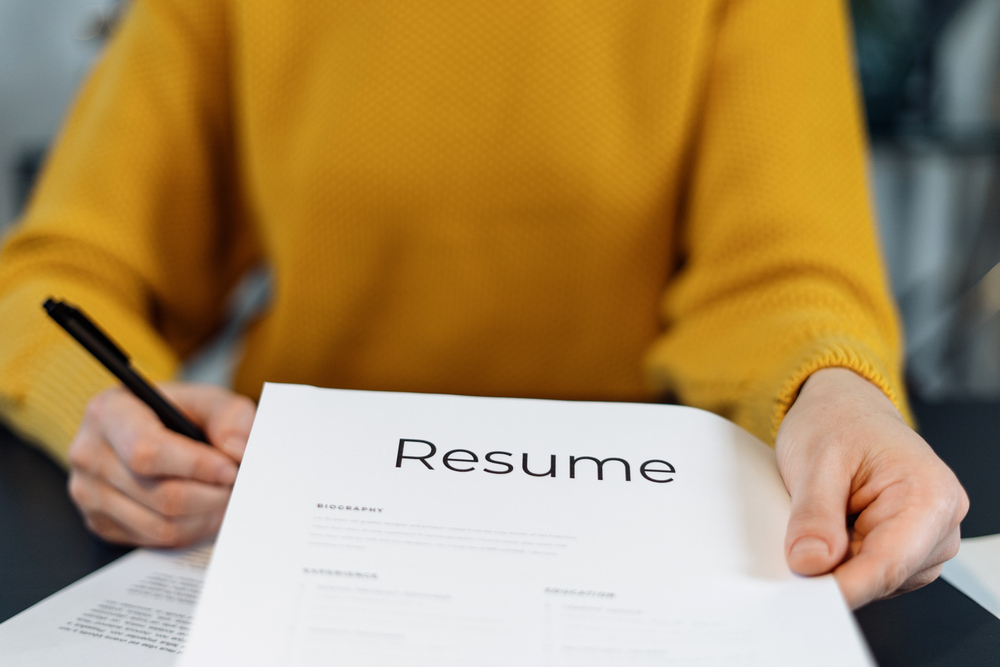 Business Resume Templates According to Your Degree Level
After you have your template, you can get down to the writing part. The content that goes into your resume has to be carefully curated. Make it direct and scannable. A solid resume helps employers easily identify your skills and strengths. We have included some business resume examples below for your reference.
Scroll down to your degree-level-specific template. Copy and paste the content into your resume, you can tweak it according to your preferences. You can find and download plenty of paid and free resume tools online that you can edit and customize. If you're willing to design and create your own resume then head over to Canva or other designing platforms. Here are some student resume templates for you that you can copy and build on.
Associate Degree Template
Objective:
Business has always been a passion of mine. As an associate degree holder in business, I aim to leverage my knowledge and skills to drive innovation, solve real-world challenges, and collaborate effectively within a dynamic team.
Education:
Associate of Science in Business Administration
-[Community College Name], [Graduation Year]
-Major: Business Administration
-GPA: [Your GPA]
Relevant Coursework:
Principles of Marketing
Financial Accounting
Business Ethics
Introduction to Management
Experience:
Intern, XYZ Start-up
-Assisted in market research and data analysis.
-Supported the development of marketing materials.
-Participated in team meetings and brainstorming sessions.
Skills:
Data analysis
Team collaboration
Market research
Communication
Problem-solving
Achievements:
– Earned an Academic Excellence Award.
– Collaborated on a successful marketing campaign that increased sales by 10%.
Bachelor's Degree Template:
Objective:
My bachelor's degree in business has not only enriched my understanding but also ignited my passion for this dynamic field. I am seeking an opportunity to join an enthusiastic team where I can contribute by introducing fresh ideas, solving complex challenges, and evolving in tandem with the company's growth trajectory.
Education:
– Bachelor of Business Administration (BBA)
-[University Name], [Graduation Year]
-Major: Business Administration
-GPA: [Your GPA]
Relevant Coursework:
Accounting Principles
Marketing Strategy
Business Ethics
Financial Management
Experience:
– Intern, XYZ Company
Assisted in market research and data analysis.
Collaborated with teams on marketing campaigns.
Developed and presented reports on market trends.
Skills:
Data analysis
Team collaboration
Market research
Communication
Problem-solving
Achievements:
– Received the Dean's List recognition [Year].
– Led a team project that improved efficiency by 20%.
Master's Degree Template:
Objective:
I'm a results-driven Master of Business Administration (MBA) graduate specializing in [mention your specialization]. I firmly believe in the power of effective leadership and innovation. With a keen eye for creativity, I aim to find innovative solutions to tasks and challenges, enabling organizations to succeed.
Education:
-Master of Business Administration (MBA)
-[University Name], [Graduation Year]
-Concentration: Strategy and Leadership
-GPA: [Your GPA]
Relevant Coursework:
Strategic Management
Leadership and Organizational Behavior
Business Ethics and Corporate Social Responsibility
Entrepreneurship and Innovation
Experience:
– Business Analyst, XYZ Consulting
– Analyzed market trends and provided strategic insights.
– Collaborated with clients to develop growth strategies.
– Conducted competitive analysis and SWOT assessments.
Skills:
Strategic planning
Market analysis
Project management
Leadership
Data-driven decision-making
Achievements:
– Graduated with honors.
– Led a cross-functional team that increased revenue by 15%.
Ph.D. in Business Administration Template:
Objective:
I hold a Ph.D. in Business Administration with expertise in research, strategic planning, and innovation. My passion is bridging the gap between academia and industry. I'm actively seeking opportunities to offer valuable insights and drive business success.
Education:
– Ph.D. in Business Administration
-[University Name], [Graduation Year]
-Dissertation Title: [Your Dissertation Title]
Relevant Coursework:
– Advanced Research Methodology
– Innovation and Entrepreneurship
– Strategic Management Theory
– Data Analysis and Modeling
Experience:
– Market Analyst at ABC Corporation
Applied academic research skills to provide in-depth insights into industry trends, resulting in a 12% increase in product sales over a two-quarter period.
– Research Fellow, [Research Institute]
Conducted in-depth research on market dynamics.
Published articles in peer-reviewed journals.
Collaborated on industry-specific projects.
Skills:
– Research Methodology
– Strategic analysis
– Data modeling
– Academic writing
– Problem-solving
Achievements:
– Awarded [Scholarship/Research Grant] for outstanding research.
– Published [Number] articles in renowned business journals.
These business resume templates can be customized according to your needs. This format will help employers understand your potential and what you bring to the table, but be sure to customize the wording to reflect your unique skills and passions. Be concise and specific. Remember to include relevant information but don't clutter the space. Keep it neat and organized. For more tips on how to craft your resume scroll down to the next section.
Tips to Write a Good Business Resume
Here are 13 tips to help you create a strong business resume:
Start with a Strong Summary or Objective Statement:
Begin your resume with a brief and compelling summary or objective statement that highlights your career goals and the value you bring to a potential employer. Tailor this statement to the specific job you're applying for.
Use a Professional Format:
Your resume should be well-organized, easy to read, and use a professional format. Choose a clean, modern font and maintain consistency in formatting throughout your document.
Contact Information:
Include your full name, phone number, email address, and LinkedIn profile (if applicable) at the top of the resume.
Highlight Your Key Skills:
Create a section near the top of your resume to list your key skills relevant to the job you're applying for. Include both hard and soft skills, such as leadership, communication, project management, and technical skills.
Showcase Your Professional Experience:
List your work experience in reverse chronological order, starting with your most recent job. For each position, include the following:
Job title
Company name
Dates of employment
Responsibilities and accomplishments
Use action verbs to describe your achievements (e.g., "Managed a team of 10 sales professionals" or "Increased revenue by 20%")
Quantify Achievements:
Whenever possible, quantify your achievements with specific numbers or percentages. This helps potential employers understand the impact you've had in your previous roles.
Use Action Words:
Use action words (e.g., achieved, managed, led) to start each bullet point in your work experience section. This makes your accomplishments have more impact.
Tailor Your Resume:
Customize your resume for each job application. Highlight the skills and experiences that are most relevant to the specific job description.
Certifications and Training:
If you have relevant certifications, licenses, or completed training programs, list them in a separate section. This can bolster your qualifications.
Awards and Achievements:
If you've received awards, recognition, or honors in your career, include them on your resume. This can help you stand out from other candidates.
Add Relevant Keywords:
Review the job posting and incorporate relevant keywords into your resume. This can improve your chances of passing through applicant tracking systems (ATS).
Proofread and Edit:
Carefully proofread your resume for spelling, grammar, and formatting errors. You may also want to have a trusted friend or colleague review it for feedback.
Include a References Section:
You can include "References available upon request" at the end of your resume. Typically, you provide references when requested during the interview process.
Remember that your business resume should tell a story of your professional journey and convey your qualifications, skills, and achievements effectively. Tailoring your resume to the specific job you're applying for is key to making a strong impression on potential employers.
To Sum Up
Writing a good business resume can be tricky. While putting together your resume, it's good to remember to be concise and direct. Make sure your resume is skimmable and neatly organized. Don't clutter the space. Keep your resume visually pleasing as well. In order to make sure your resume stands out, try to dig a little deeper into the company's profile and give them exactly what they're looking for. Focus on relevant skills and experience and tailor your resume to the company's needs. Proofread your resume for errors and typos before sending it and you're good to go.
Frequently Asked Questions (FAQs)
Your resume should be one page for entry-level candidates and up to two pages for mid-level or experienced professionals.
Common resume mistakes include spelling and grammatical errors, including irrelevant information, providing vague descriptions, or using a generic, one-size-fits-all resume for all job applications. Tailor your resume for each position you apply for.