Interested in a dynamic career that involves planning, organizing, and overseeing projects? An associate's degree in project management might be your ticket.
In this program, you'll gain essential skills to become a project management pro. Whether you're into business, technology, or any field that requires efficient project execution, this degree can set you up for success.
What is an Associate's Degree in Project Management?
Simply put, an associate's degree in project management is a higher education program that provides fundamental knowledge and skills in the field of project management. Typically a two year program, it is often offered by community colleges and online institutions.
In this program, you would learn the basics of project planning, execution, and monitoring. You also get a chance to gain insights into project management software, team collaboration, and communication techniques.
Duration of Associate's Degree in Project Management
An associate's degree in project management typically takes about two years to complete when pursued on a full-time basis, which equates to four semesters or approximately 60 to 70 credit hours of coursework. However, the duration may vary depending on factors such as the specific program, the student's course load, and whether they choose to study part-time.
Some institutions offer accelerated options or online programs that can be completed more quickly. Additionally, if you have transfer credits or prior coursework, it may reduce the time needed to earn the degree.
Different Types of Associate's Degrees in Project Management
Here are some common associate's degrees in project management you can choose to pursue:
Associate of Science (AS) in Project Management:
Focuses on the technical aspects of project management.
Emphasizes quantitative skills and data analysis.
Associate of Applied Science (AAS) in Project Management:
Practical, hands-on approach to project management.
Often includes internships or cooperative work experiences.
Associate of Arts (AA) in Project Management:
Offers a broader education with a focus on liberal arts.
Suitable for students interested in a well-rounded education alongside project management skills.
Associate of Business Administration (ABA) in Project Management:
Combines project management with foundational business courses.
Ideal for those who want to understand the business side of project management.
Associate of Applied Business (AAB) in Project Management:
Tailored for immediate career readiness in project management roles.
Includes courses in leadership and organizational behavior.
Associate of Technology (AT) in Project Management:
Emphasizes the use of technology in project management.
Includes coursework on software tools and IT project management.
Associate of General Studies (AGS) with a focus on Project Management:
Provides a flexible curriculum for students interested in diverse subjects.
Allows for customization with project management courses.
Each one of these specializations caters to different career goals, offering students a range of options to pursue their interests in project management.
Classes You Can Expect to Take
In an associate's degree program for project management, you can expect to take a variety of courses that set a solid foundation in project management principles and related skills.
Here are some typical classes you may encounter:
Introduction to Project Management: Covers the basic concepts and principles of project management.
Project Planning and Scheduling: Focuses on creating project plans, timelines, and schedules.
Project Risk Management: Addresses identifying, assessing, and mitigating risks in project execution.
Project Quality Management: Discusses techniques for ensuring project deliverables meet quality standards.
Project Budgeting and Cost Control: Teaches how to estimate project costs, create budgets, and manage expenses.
Project Communication and Team Collaboration: Emphasizes effective communication and teamwork skills in project environments.
Project Leadership and Ethics: Explores leadership styles, ethical considerations, and decision-making in project management.
IT Project Management: Focuses on managing information technology projects.
Business and Management Principles: Provides a broader understanding of business operations and management.
Microsoft Project or Project Management Software: Hands-on training in using project management software tools.
Internship or Capstone Project: Practical experience working on real projects or simulations.
These courses collectively equip you with skills and knowledge needed to initiate, plan, execute, and monitor projects effectively, making them valuable assets in various industries that require project management expertise.
Admission Requirements for Associate's Degree in Project Management Programs
The admission requirements for an associate's degree program in project management may vary depending on the institution offering the program. Some common requirements include:
High School Diploma or Equivalent: Typically, you need a high school diploma or a GED (General Educational Development) certificate to be eligible for admission.

Application Form: You'll need to complete an application form provided by the institution. Many colleges and universities offer online application options.
Transcripts: You may be required to submit your high school transcripts or transcripts from any previous college coursework.
Standardized Tests: Some institutions may require standardized test scores, such as the SAT or ACT, although these requirements are less common for associate degree programs.
Letters of Recommendation: While not always mandatory, some programs may request letters of recommendation from teachers or professionals who can vouch for your abilities and character.
Admissions Essay: You might be asked to write a personal statement or essay explaining your interest in project management and your academic or career goals.
Interview: In some cases, the institution may request an interview as part of the admissions process.
Application Fee: There is usually an application fee that varies by institution.
It's always wise to check the specific admission requirements of the institution you're interested in, as they can vary widely. Additionally, some community colleges have open enrollment policies, making it easier to start your associate's degree without strict admission requirements.
Popular Career Options to Consider After Obtaining an Associate's Degree in Project Management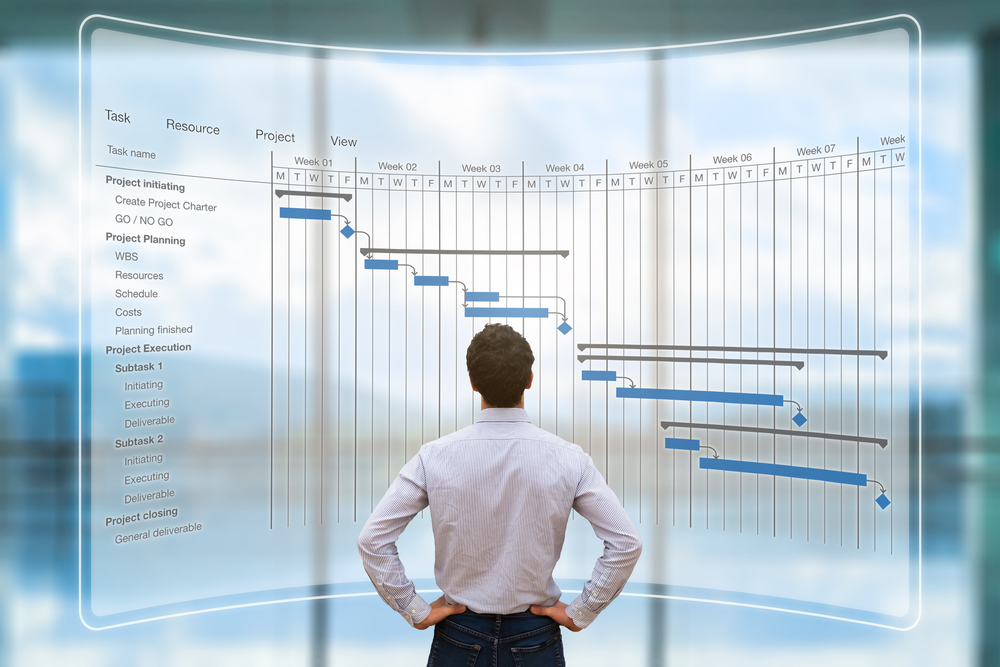 After obtaining an associate's degree in project management, you'll have a foundation of skills that can open doors to various career opportunities. Here are some popular career options to consider:
Project Coordinator/Assistant: Assist project managers in planning, organizing, and executing projects. This role involves administrative tasks, tracking progress, and facilitating communication among team members.
Administrative Manager: Manage office operations, including overseeing projects, coordinating staff, and ensuring efficient workflows.
Business Analyst: Analyze business processes, gather and document requirements, and help organizations improve their operations.
Quality Control Inspector: Ensure products or services meet quality standards and specifications by conducting inspections and tests.
Construction Assistant: Support construction project managers by coordinating tasks, managing schedules, and ensuring projects meet safety and quality standards.
IT Support Specialist: Provide technical support to end-users, troubleshoot issues, and assist with IT projects within an organization.
Customer Service Manager: Oversee customer service teams, address customer concerns, and implement service improvement projects.
Retail Manager: Manage store operations, including inventory control, staff supervision, and the implementation of retail-related projects.
Healthcare Project Coordinator: Assist in managing healthcare projects, ensuring compliance with regulations, and facilitating communication among healthcare professionals.
Event Planner: Plan and execute events, from conferences to weddings, by coordinating logistics, budgets, and project timelines.
Supply Chain Coordinator: Coordinate the movement of goods and materials in supply chain management, optimizing processes and reducing costs.
Government Project Assistant: Work in various government agencies, assisting in project management and administrative roles.
Nonprofit Program Coordinator: Help nonprofit organizations manage and implement programs, projects, and fundraising initiatives.
Freelance Project Manager: Offer your project management skills on a freelance basis, working with clients in different industries.
With an associate's degree in project management, you'll have a versatile skill set that can be applied across a wide range of industries and job roles, making you a valuable asset to employers in various fields.
Online Associate's Programs in Project Management
Online associate's programs in project management are a wonderful option that provide a solid foundation in project management principles, methodologies, and skills while accommodating individuals seeking flexibility in their studies. This makes online programs suitable for working professionals, busy adults, or those with other personal or work commitments.
Much like on-campus programs, online programs too cover key aspects of project management, including project planning, scheduling, risk management, budgeting, and communication. As a student enrolled in an online program, you will often engage in virtual classrooms, discussion boards, and collaborative projects.
Institutions like University of Arizona Global Campus, Post University, and many others, offer online programs in project management. It's essential to research and choose a program that aligns with your career goals and interests.
Additionally, these online programs offer the convenience of asynchronous learning, allowing you to complete coursework on your schedule while still acquiring valuable project management skills for various career opportunities.
The Bottomline
An associate's degree in project management serves as a valuable stepping stone toward a promising career in various industries. Graduates are well-prepared for entry-level positions in various roles, and can find opportunities across industries.
Pursuing an associate's degree in project management not only equips you with essential skills but also opens doors to a wide range of career paths, making it a valuable investment in one's future.
Frequently Asked Questions
Choosing the right associate's degree in project management involves considering several key factors. First, identify your career goals and interests within the field.
Then, research institutions and programs, considering factors like accreditation, faculty expertise, and program reputation. Ensure the curriculum aligns with your career aspirations, covering relevant topics. Evaluate the program's flexibility, especially if you have other commitments.
Finally, compare costs, financial aid options, and the institution's support services. By carefully assessing these aspects, you can select the program that best matches your educational and career objectives while accommodating your personal circumstances.
Yes, there are various financial aid options available for students pursuing an Associate's Degree in Project Management. These include federal aid programs like the Free Application for Federal Student Aid (FAFSA), which can provide grants, subsidized or unsubsidized loans, and work-study opportunities.
Additionally, scholarships and grants from colleges, private organizations, and industry-specific associations are often available. Some employers may offer tuition reimbursement or sponsorship for employees pursuing relevant degrees. It's crucial to research and apply for these options early, as they can significantly reduce the financial burden of obtaining your degree.