When applying for college for the first time, it's easy to feel like you're not doing everything you need to in order to get into the school of your dreams.
But don't worry! There are some things you can do to make the process a little bit easier on yourself.
To ensure that your college application stands out, you must work hard. By becoming organized and becoming familiar with the application procedure, you can make your application stand out from other candidates.
Each component of the college application process has a deadline, including tests, essays, recommendation letters, and transcripts. To avoid missing any deadlines, make sure to follow a checklist for each school you are applying to.
This complete guide will walk you through every step of the college application process, from choosing the right schools to apply, to writing your personal statement. By the end of this guide, you'll have everything you need to submit a strong college application that will get you one step closer to your dream school.
Let's get started!
College Application Requirements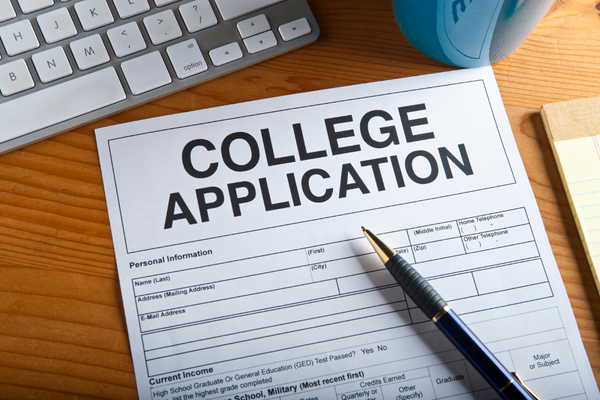 Let's look at the normal requirements for applying to US schools and universities.
Standardized test scores
These consist of your SAT and ACT test results. Even though many schools no longer demand standardized test scores, many do. You need to sign up for the test and get ready for it if you're thinking about applying to any schools that need it.
Personal statement and essay
Colleges want to know more about you than just your GPA and test results. You will have the chance to present a more complete portrait of who you are in the personal statement and essays. So, present yourself accordingly – highlight your strong points and interests.
Academic transcripts
Schools can see what classes you've taken and your grades by looking at your transcripts from high school and any other colleges or universities you may have attended. So, make sure to attach your transcripts to the admission form.
Application
As you are applying to multiple schools, you must complete an application for each school. Application forms mainly ask for details such as a list of your extracurricular activities and the contact information for your parents or legal guardians.
Recommendation letters
2-3 letters from credible individuals in your life are required by many universities. You can ask your instructor, counselor, coach, or employer to write your recommendation letter.
Financial details
Some colleges ask for your family's financial position in order to determine your eligibility for scholarships. If requested, you need to provide the credit details but in the majority of cases, financial details can be shared at a later date.
The Step-By-Step Guide to Applying to College
We advise the student to prepare their documents and start the application process in advance. Many high school seniors begin their application processes in the summer or fall before their senior year. If you take into account standardized testing, you can start this procedure in your junior year.
1. Know Regular Application Deadlines
The deadlines for applications are the final determining factor to which institution you will apply. Make sure to know these dates ahead of time, as they may affect your decision-making process.
Make a note of the application deadlines for the colleges you are considering, and have it close at hand the entire time. Early January deadlines are commonplace in schools.
If you are not sure about your college options, you can schedule a meeting with an instructor or school counselor. Depending on your choices, they might be able to advise you on the kind of institutions you should research.
2. Follow Early Application Deadlines
It is important to follow the early application deadlines for college applications so that you can get a head start in the admissions process. Early application deadlines often provide applicants with a better chance of admission, as well as access to scholarships and financial aid.
By starting your application early you will have more time to review your essays and application information before submitting. This gives you the chance to make sure everything is accurate, complete, and up-to-date. It also gives you time to review your application with an advisor or counselor and make any necessary changes.
3. Select the College Application Platforms
Applying to colleges may be challenging, especially if you are applying to many of them. Thankfully, a large number of schools and institutions employ centralized application processes that let students upload all of their personal data, test results, and essays at once. Multiple schools can then receive that information from them.
Although not all institutions use them, applying to those that do may make the process much less demanding and time-consuming.
Some of the common college application platforms are listed as follows:
3. Write Your Personal Statement
The college application process involves writing an essay or personal statement which works as the summary of your character. Writing a personal statement is one of the best chances to share your values which cannot be reflected by school transcripts.
You will need some time to come up with impressive ideas for your personal statement. Share the idea with your guidance counselor and parent to get their feedback. Once the idea gets positive feedback, you can start the initial draft of the essay.
After drafting the personal statement, keep reading and revising it till you are satisfied with it. Share the essay with your close ones and ask for their feedback. You need to make further changes to the draft based on this new feedback.
This is a one-time effort as you can use the same personal statement for multiple colleges through Common Application so you need to take this task seriously. Some colleges need you to answer specific questions in the essay so read the specification thoroughly and make the required changes in your personal statement.
4. Letters of Recommendation
Students are frequently required to submit two to three letters of recommendation to colleges. You should look for recommenders—often instructors or counselors—who knows you and who can comment on both your personal trait and academic accomplishments.
To make sure you cover all the bases, students are advised to give recommenders a copy of their résume or just a letter covering their academic performance. As instructors are busy with the recommendation letters of other students, you can ask them at least 2 months before to prevent any hassle.
5. Submit Your Official School Transcripts
To assess your academic performance, colleges want certified transcripts. This includes your high school transcript as well as any other academic records you may have, such as community college or other colleges you may have attended.
You can ask your school guidance counselor to send your transcript to the colleges you're applying to if you're still a high school student.
Furthermore, you'll also need to submit an online or paper transcript request form if you've previously completed high school. For directions on how to go about it, get in touch with the district or former school.
When applying to universities while attending community college, get in touch with your counselor or the registrar's office to request that an official transcript be sent. Typically, schools will specify the deadline for electronic submission or postmarking.
6. Fill Out the Application
Completing the application takes time so you need to be mindful of it. You need to fill in the information about your awards, extracurricular activities, and a parent or legal guardian's details. This information will be added in the general information section of the application form.
You will also need to answer some theoretical questions that can define your ideas and personality. These questions are mainly focused on your favorite books and hobbies you enjoy.
7. Double-Check Before Your Submit Your Application
Double-check the application to ensure that everything you need has been uploaded or submitted as the application deadline approaches—possibly a week away. If any letters of recommendation are still pending, politely remind the writer of the impending deadline.
Conclusion
Applying to college is a major milestone in any student's life, and we want to make sure that you have everything you need to make the process as easy as possible.
Just to recap:
Start early and give yourself plenty of time to work on your applications. Don't wait until the last minute.
If you have any questions or concerns about the process, don't hesitate to reach out to your high school counselor or a representative from the colleges that you are interested in attending. They will be more than happy to help.
Also, touring campus is a suggestion we cannot stress more. You would get a better understanding of how you may or may not fit in by seeing an institution, its campus culture, and its community.
While visiting a college is not a requirement for the official college application process, the facilities, campus, and culture will help you get the feel of your new home where you will be spending a lot of your time.
We hope this guide has been helpful and provided all the information you need. Feel free to browse through our site for any information you need about any college-related topic.
Frequently Asked Questions
The average cost of a college application fee is around $43, and the most typical charge for college admissions is $50.
Ask the admission counselor about the fee waiver policy by calling the admissions office of the institution or university you intend to apply.
Many schools have extremely straightforward procedures in place for fee exemptions, and they may only ask you to submit a statement from your mentor or guidance counselor outlining your financial status.