Simply put, business administration is all about managing people, resources, and time to ensure the financial success of a business. Business administration professionals ensure that the business runs effectively and meets its goals through careful utilization of resources. It's a highly sought-after career because there's a widespread demand for it.
Virtually every industry requires individuals with strong business and management acumen. What makes it particularly appealing is its versatility, as it gives you a range of skills that can help you in lots of different careers.
Business administration plays an important role in many fields within business. Career options include marketing, finance, human resources, and more. Maybe you're enthusiastic about numbers, or maybe you enjoy design and art; either way, you can find your place in business.
If you're looking for a fun and challenging career at the same time, you're in luck. Business offers many opportunities for growth and development, and depending on your chosen specialization, your job can get pretty creative too.
Let's look into business administration in more detail. In this blog, we will walk you through the different aspects of business administration, including degrees, careers, and advancement. 
Getting a Degree in Business Administration
Business is a popular choice among students. According to the National Centre for Education Statistics (NCES), in the year 2020-21, the highest number of bachelor's degrees were awarded to students in the field of business.
What Is a Degree in Business Administration?
A degree in business administration is designed to provide a broad understanding of various aspects of business, including management, finance, marketing, human resources, and more. These subjects will give you the knowledge required to understand how a business operates.
A bachelor's degree in business administration is one of the most common degrees for entry-level business administration jobs. Bachelor of business administration jobs include opportunities in fields such as finance, marketing, human resources, management, consulting, and entrepreneurship.
How Long Is a Bachelor's Degree in Business Administration?
A bachelor's degree in business administration generally takes four years to complete. This undergraduate program offers a comprehensive education in business. As part of this degree program, you will need to complete 120-130 credit hours of coursework, including core business courses, general education requirements, and electives.
Types of Degrees in Business Administration
There are different types of degrees in business administration, offering different levels of specialization and focus. Here are some common types of degrees in business administration:
Associate of Science or Associate of Applied Science in Business Administration:
A two-year program that provides a foundational understanding of business principles and can be a starting point for entry-level business administration jobs.
Bachelor of Business Administration (BBA) or Bachelor of Science in Business Administration (BSBA):
A four-year undergraduate degree that provides a comprehensive education in business fundamentals. It covers various areas, including management, finance, marketing, human resources, and more. BBA or BSBA programs often offer specializations to allow students to focus on specific areas of interest.
Master of Business Administration (MBA):
A graduate-level degree is often pursued by individuals with some work experience. It provides a deeper understanding of business concepts and is known for its focus on leadership and management skills. MBA programs typically offer various specializations and can be completed in full-time, part-time, or accelerated formats. Master of business administration jobs include top-level management positions.
Master of Science in Business Administration (MSBA):
A graduate-level degree that focuses on a specific area within business, such as analytics, information systems, or entrepreneurship. MSBA programs provide in-depth knowledge in these specialized areas.
Doctor of Business Administration (DBA):
A terminal degree in business that is research-oriented and focuses on applying business theories to real-world problems. It's designed for individuals interested in academic or research careers in business.
Career Paths with a Degree in Business Administration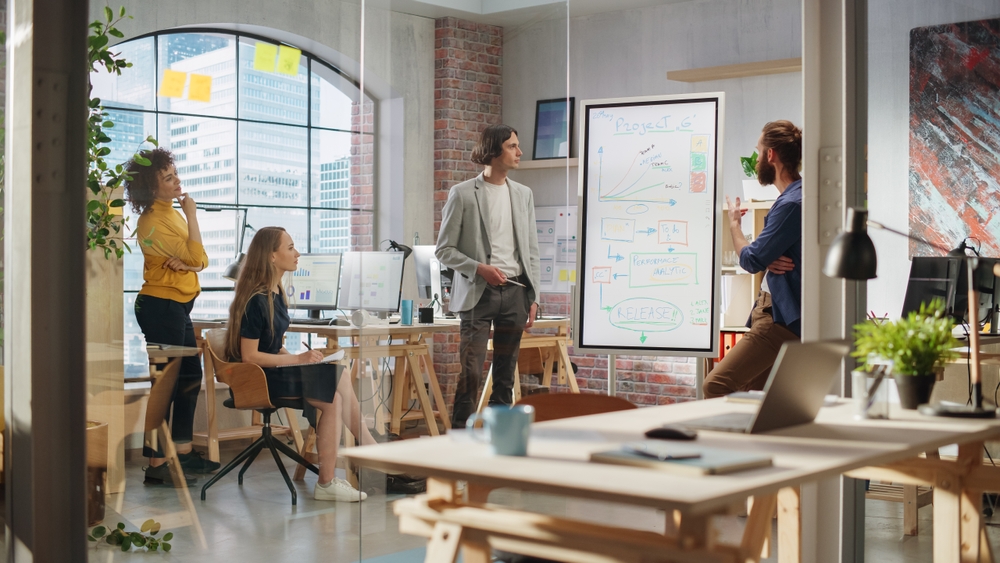 Business administration is a broad field with plenty of job options. 
Here are some common career paths in business administration –
1. Finance:
Simply put, in this role you will manage money and deal with numbers. Careers in the finance field include financial management, investment banking, financial analysis, and accounting.
2. Marketing:
Marketing blends creativity and ideas. Marketing professionals focus on areas such as advertising, market research, digital marketing, brand management, and public relations.
3. Human Resource Management:
Human resources are focused on employees. HR specialists manage various aspects of employee relations, including recruitment, training, compensation, and benefits administration.
4. Operations Management:
Operations Management involves streamlining, overseeing, and improving operations. Operations managers work on optimizing processes, supply chain management, project management, and quality control within organizations.
5. Entrepreneurship:
Entrepreneurship is building a business of your own. Entrepreneurs start and manage their own businesses, which can be in various industries. This path involves business planning, funding, and risk management.
6. Information Technology Management:
IT is all about computers. IT managers oversee IT infrastructure, cybersecurity, software development, and data analysis within organizations.
7. International Business:
Working globally, across countries. Professionals in this field work on global marketing, international trade, cross-cultural management, and international business development.
8. Management Analysis:
Management analysts improve business efficiency. These professionals help organizations improve their efficiency, solve problems, and increase profitability.
9. Supply Chain Management:
We're talking about everything from production to delivery. Supply chain management involves overseeing the end-to-end process of acquiring, producing, and delivering goods or services to customers efficiently.
10. Consulting:
This path is all about problem-solving and strategizing. Business consultants provide expert advice to organizations on various business challenges, including strategy, operations, and management.
These are just a few examples of the diverse career paths within business administration. The right path for you depends on your interests, skills, and career goals.
Business Administration Salary and Popular Job Options for Graduates
According to the Bureau of Labor Statistics, the following are some popular business administration jobs with corresponding pay:
Advertising, Promotions, and Marketing Managers:
These professionals create interest in the minds of their audience about their service or product. They create marketing campaigns to make sure their product gets seen and purchased. A part of their job is to stay up-to-date, so they keep an eye on what's popular (market research) and find the right target audiences for their ads, blogs, or other creative products. A bachelor's degree in marketing or a related field is typically required, along with relevant experience. The 2022 median annual salary for marketing managers was $138,730.
Financial Analysts:
Financial analysts guide businesses on how to spend money to ensure profits. They evaluate financial data, keep track of investment trends, and offer advice on investment decisions. A bachelor's degree in finance or a related field is typically required, and some may obtain the Chartered Financial Analyst (CFA) designation for advancement. The 2022 median annual salary for financial analysts was $96,220 per year.
Human Resources Managers:
HR managers handle all things related to employees, like hiring, benefits, training, and how people get along at work. Usually, you'd need a bachelor's degree in HR or a related area to get started in this job. The 2022 median annual salary for HR managers was $130,000.
Sales Managers:
Sales managers lead sales teams, set goals, and develop strategies to achieve them. A bachelor's degree in business or related fields is typical, along with experience in sales. Sales managers earn a median annual salary of approximately $130,600, often with bonuses and commissions.
Operations Manager:
Operations managers oversee and optimize daily business activities, resource allocation, quality control, budgeting, and staff management to ensure efficient production or service delivery. A bachelor's degree in operations management or business-related fields is common. Operations managers earn around $98,100 as a median annual salary as of 2022.
Management Consultant:
Management consultants work to improve an organization's efficiency. They attempt to reduce costs and increase profits through careful planning and strategizing. These professionals are often required to hold a bachelor's degree in business or a related field; an MBA or relevant certifications can be advantageous. Management consultants' annual salary, as per the Bureau of Labor Statistics, was $95,290 in 2022.
Public Relations (PR) Manager:
PR managers handle an organization's public image and communication. They create and maintain a positive public perception, manage media relations, and craft PR strategies. A bachelor's degree in public relations, communications, or a related field is common. PR managers earn an annual median salary of around $129,430.
Logisticians:
Logisticians oversee the end-to-end process of product delivery. They make sure things are in the right place at the right time. This includes tasks like planning how products are bought, stored, and shipped, as well as ensuring they reach customers efficiently. A bachelor's degree in supply chain management, business, or a related field is typically required. The median annual salary for logisticians in 2022 was $77,520.
Project Manager:
Project managers are responsible for planning, executing, and closing projects, ensuring they are completed on time and within budget. They coordinate resources, manage stakeholders, and oversee project teams. Many project managers have a bachelor's or master's degree in business, project management, or a related field. Project managers earn a median annual salary of $95,370.
Market Research Analysts:
Market research analysts examine consumer preferences, the business environment, and various factors to gauge the potential sales of a product or service. Their role is to assist companies in gaining insights into which products are in demand, who the target customers are, and at what price the products can be sold. The 2022 median annual wage for this role is $68,230.
Entry-level Business Administration Jobs
Entry-level business administration positions provide openings for individuals without prior experience or specific qualifications, making them accessible to a broad range of job seekers. These roles encompass a wide range of responsibilities, including administrative support, data analysis, customer service, and general operations, making them ideal starting points for career development in the business field.
Human Resources Assistants
This role involves maintaining a database for every employee. This may involve generating reports for employment records, organizing and storing these records, or retrieving employee files to provide information to authorized individuals. The 2022 median annual pay for this role is $45,930.
Financial Clerks
Financial clerks perform administrative tasks, assist customers, and conduct financial transactions. The 2022 median annual salary for this role was $45,570.
Sales
The goal of sales is to sell a particular product or service. Sales involve setting targets and achieving them. The 2022 median salary for this role was $35,290.
Bookkeeping, Accounting, and Auditing Clerks
Bookkeeping, accounting, and auditing clerks generate financial documentation for companies and verify the precision of financial records. The 2022 median annual pay for this job was $45,860.
Marketing Assistant
A marketing assistant supports marketing efforts by performing various administrative tasks and assisting with promotional activities. They help create marketing materials, conduct market research, and contribute to campaign management. The median annual wage for this post is around $55,931.
MBA: Take Your Career to the Next Level
Pursuing an MBA (Master of Business Administration) can do wonders for your career. You will get a chance to learn from seasoned professionals and carry that knowledge into your future job. With an MBA, you may be able to secure top-level positions, and you can also expect a better salary. You will also feel more confident in your skills, which will lead to more job satisfaction and likely more success as well.
Here are some appealing reasons for considering an MBA:
Career Advancement:
An MBA can significantly boost your career prospects. It is often seen as a fast track to management positions in various industries. Many senior executives and leaders in prominent companies hold MBAs.
Skill Enhancement:
MBA programs provide a well-rounded education in various business disciplines, including finance, marketing, operations, and management. This equips you with a wide range of skills that are valuable in today's competitive job market.
Networking Opportunities:
MBA programs often provide opportunities to build a strong professional network. You'll interact with professors, classmates, and alumni who can become valuable contacts throughout your career.
Entrepreneurship:
If you aspire to start your own business, an MBA can provide you with the knowledge and skills needed to launch and manage a successful venture. Many MBA programs offer entrepreneurship courses and resources.
Specialization:
Many MBA programs allow you to specialize in areas such as finance, marketing, healthcare management, technology, or sustainability. This specialization can make you more attractive to employers in specific industries.
Higher Earning Potential:
On average, individuals with an MBA tend to earn higher salaries compared to those with only an undergraduate degree. The specific increase varies by industry and location.
These are just some common reasons to pursue an MBA. There are many more advantages, including intellectual development, continuous learning, personal fulfillment, and more. Your reasons for pursuing an MBA may look different for you depending on your interests, career goals, and passions. Regardless, an MBA will give your career a boost, making it more rewarding for you.
Conclusion
A degree in business administration opens up a number of solid career paths for you. Business is also one of the most popular undergraduate degrees. It is an attractive option because of its broad scope, offering many opportunities and room for development and career advancement. It's a journey that can lead to leadership roles, extensive professional networking, and a tangible impact on the business world, making it a fulfilling and rewarding choice. 
Frequently Asked Questions (FAQs)
Business administration can be a rewarding career path for individuals who have an interest in managing and leading organizations. It offers a wide range of job opportunities and can lead to fulfilling and financially rewarding roles. The suitability of this career path depends on your personal interests and goals. Consider factors such as your skills, interests, and long-term career objectives when determining if business administration is the right choice for you.
Important skills for a career in business administration include leadership, communication, problem-solving, analytical thinking, decision-making, and the ability to work well in teams.
Fields in business administration include management, finance, marketing, HR, operations management, entrepreneurship, international business, IT management, healthcare administration, and non-profit management.
CEO, CFO, Marketing Director, IT Director, Management Consultant, Financial Manager, and Investment Banker are among the highest-paying roles